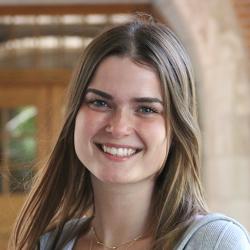 More Than I Imagined
Seniors reflect on accomplishments and look ahead
Rachael Lockmiller
Graduation year: 2021
High school: Monticello High School
Hometown: Monticello, Ill.
Major: Elementary education
Internship: Student teaching at Riverdale Heights Elementary, Bettendorf, Iowa
Post-grad plans: Kindergarten teacher at Kids R Kids in Mount Pleasant, S.C.
Why Augustana?
Coming from a small high school, I was very nervous about starting my next chapter in college. I went on quite a few visits to large schools but never felt at home. That is, until I visited Augie! I felt so welcomed and comfortable as soon as I stepped on campus. This feeling only amplified the more involved I became on campus.
Are you where you thought you'd be when you first came to campus?
I expected to grow at Augustana, but I would not have expected to come as far as I have. Augie has led me to be comfortable and confident with my abilities in the classroom.
Who helped you get to where you are now?
There are so many people I would like to thank for helping me grow into the person I am today. My roommate since freshman year is one of these people as she has led me to explore many opportunities on campus. We have been able to make so many friends along the way.
As far as the education department goes, I have had the absolute best advisors and professors to help me with my professional development. I am so grateful for the extra mile this department always goes to help their students.
Peak experience?
My favorite experience was either my study abroad trip to Norway or my student-teaching experience. These two experiences combined allowed me to learn so much about myself and how life will look outside of the Augustana community.
What surprised you?
One thing that surprised me about Augie was the inclusiveness. Ever since the first week of school, I have felt welcomed by my peers in and outside of the classroom.
How did you use your Augie Choice?
I used my Augie Choice for my study abroad trip to Norway!
What will you miss the most?
Everything :(
Advice for the Class of 2025?
As cliché as it sounds, enjoy each and every moment. I remember freshman year move-in day like it was yesterday, and with a blink of an eye, it is all over. Make as many memories as possible and take lots of pictures.
"As a year like no other winds down, I must say that one of its highlights was the privilege to supervise Rachael during her student-teaching experience. She had an uncanny ability to pull kids into a lesson, humanize the learning experience and extend her teaching style to harmonize with students' backgrounds and learning preferences. I recall one particular math lesson where her first graders were so engaged that they did not want to go to recess! This was not only a testament to Rachael's rapport and teaching, but to the excitement and challenge of the learning process. Rachael will be a force of excellence in the classroom."