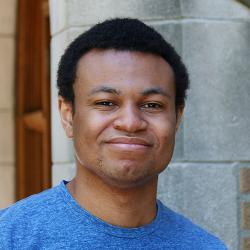 More Than I Imagined
Seniors reflect on accomplishments and look ahead
Pierce Albert
Graduation year: 2021
High school: Jones College Prep High School
Hometown: Chicago
Major: Sociology (social welfare)
Minor: Chinese
Activities: Phi Beta Kappa academic honor society
Internship: Intern at the Chinese Mutual Aid Association (CMAA) in summer 2019
Post-grad plans: I will be going to graduate school to get my Master of Social Work. I'll be doing this soon, but first I will be taking a break to explore job and internship opportunities.
Why Augustana?
I found the atmosphere, from the pretty campus to the friendly people, very attractive. Augustana seemed like such a fun place to go to.
Are you where you thought you'd be when you first came to campus?
I don't think I had any expectations of where I would be at this point, as I knew that I wouldn't find out the ways in which I would grow until after I got to college. I knew that college is about exploring oneself, and I think I did plenty of that, but I knew to never be sure about where I would end up until after I got there. That being said, I think I have grown considerably here and am happy with where I am now.
Who helped you get to where you are now?
Starting off with teachers, I want to thank professors Fatima Sattar and Marsha Smith for showing me how important and interesting the fields of sociology and social welfare are, as well as for helping me feel confident that these are the fields for me.
I want to thank Chinese professor Hua-Mei Chang and Japanese professor Mari Nagase for stimulating my interest in East Asian languages and cultures.
I also want to give thanks to the following teachers for teaching fascinating content that helped me improve my critical thinking skills: Peter Kivisto, Paul Croll, Elizabeth Lawrence and Kiki Kosnick. l also want to thank professors Dawn Farmer and Jacob Bancks for fostering my interest in music composition.
And, thank you to the librarians at Tredway Library, including Anne Earel and María Emerson, for being great mentors and supporting my professional development.
Lastly, I want to thank Katrina, Genesis, Michael, Johann and the rest of my wonderful friends for being awesome!
Peak experience?
While I did not have a specific 'peak experience,' just getting to know so many great people was my favorite part about Augustana.
What surprised you?
I was surprised by how much Augustana feels like a community. People who I thought were quite different from each other ended up finding things that brought them together, and create good friendships as a result.
The interconnectedness of the community was also apparent at many of the social events on campus, which were often fun and inviting.
What will you miss the most?
The people. I will miss my friends, teachers and mentors very much.
Advice for the Class of 2025?
Go out and have (COVID-free) fun! Don't miss out on the great experiences the college provides.
"Teaching and advising Pierce over the years has been a joy! He is one of the most friendliest and thoughtful students. His excitement for learning is felt in the classroom through engaged participation. He has demonstrated academic success in many areas, including his original Senior Inquiry research project on academic accommodations for students with disabilities, and he was elected to Phi Beta Kappa membership. Pierce has also taken advantage of his liberal arts education by studying diverse subjects including Asian studies, Chinese, and sociology and social welfare. He has been a positive influence at Augie, and I know he will continue to be in his future path!"