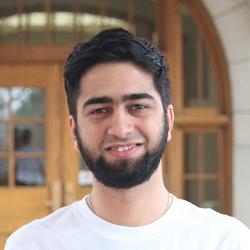 More Than I Imagined
Seniors reflect on accomplishments and look ahead
Omidullah Barikzay
Graduation year: 2021
High school: Rock Island High School
Hometown: Rock Island, Ill.
Majors: Computer science, accounting
Minors: Data analytics, mathematics
Activities: Muslim Student Association, Mortal Board National Honor Society, Badminton Club, ICPAS Student Chapter (off campus), Paintball Club, Diversity Council, math and accounting tutor
Internship: John Deere (July 2018 to present)
Post-grad plans: Work full-time as a software developer with John Deere and pursue a master's in cyber security at Iowa State University (online)
Why Augustana?    
I went on many college visits during senior year of high school, and Augustana was the most welcoming. I felt connected with the faculty that I had time with to learn about my majors. Everyone was super helpful, and when it came time to make the decision, I definitely remembered the welcoming atmosphere and decided to join Augustana.
Are you where you thought you'd be when you first came to campus?    
Definitely not. I never imagined graduating with two majors and two minors or starting a job with a company right after my freshman year of college.
Who helped you get to where you are now?    
It definitely would not have been possible without my parents, family, faculty, friends and my advisors. I really appreciate all the mentoring and coaching I received from everyone. There were people all along my journey who helped me believe in myself and helped me get here.
I never saw myself going to grad school but thanks to my parents who helped me believe in myself, I will be going to grad school.
I want to give a shoutout to Dr. Delaney. He has been an amazing advisor and mentor, helping me create my four-year plan and helping me graduate on time. I also would like to thank Dr. Tauheed Khan Mohd for nominating me and allowing me to share my Augustana journey with you all.
Peak experience?    
Getting a job right after my freshman year with John Deere. I learned so much during my job there that helped me both inside and outside the classroom.
What surprised you?    
The amount of different clubs and activities that I participated in at Augustana. As a commuter, I was thinking I wouldn't be able to get the full college experience, but thanks to all the great events, I was able to stay connected to the campus and have leadership roles in some of the clubs throughout my four years here.
What will you miss the most?    
All the group-time work and activities I was part of that helped me make lifelong friends. It was always fun to get together in the evening and attend one of the OSL events, especially BINGO. My friends and I always attended BINGO nights.
Advice for the Class of 2025?    
"It is better to aim high and miss than to aim low and hit." – Les Brown. We can do everything that we put our mind to. Don't let people tell you that you can't do something. Just because they didn't get there doesn't mean you can't.
"Omidullah has been instrumental in organizing activities on campus. He is energetic and pro-active in taking initiatives. He has novel ideas to work on research projects that are unique and interdisciplinary to various education streams. I wish him the best of luck."