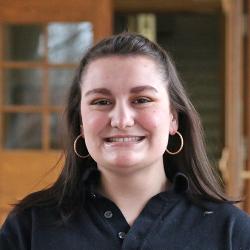 More Than I Imagined
Seniors reflect on accomplishments and look ahead
Monica Thompson
Graduation year: 2021
High school: Crystal Lake South High School
Hometown: Crystal Lake, Ill.
Majors: History, art history
Minor: Psychology
Activities: History Club, Mortar Board National Honor Society
Internship: Whistler Project research assistant at Augustana
Post-grad plans: Saint Louis University Law School
Why Augustana?   
I chose Augustana because I wanted a liberal arts education where I could pursue my interests while also learning about other subjects. When I toured this school, I fell in love with the beautiful campus and the welcoming community. Augie became my first choice immediately after that tour, and I applied a few weeks later.
Are you where you thought you'd be when you first came to campus?    
I am not far off from where I expected to be but how my path has changed was unpredictable. I expected to be a history and psychology double major when I first came to campus, and I wanted to pursue family law after Augie. Now I'm a history and art history double major with a psychology minor, and I am going to pursue art law in law school. I never knew that I could take my undergrad interests with me to law school, and I'm very excited to do so.
Who helped you get to where you are now?    
I cannot thank the faculty who helped me out these past four years enough. Dr. Ellis in the history department has been so dependable in helping me sort out my program evaluation, classload and what classes to take. He was also instrumental in my law school application processes and helping me choose my future path.
I am also grateful to Dr. Morse in the art history department who has guided me each year, helped me choose my SI topic and assisted with law school applications. Dr. Goebel, also in the art history department, has given me so many opportunities. She hired me as a Whistler scholar and then as a research assistant for the Whistler Project. She also helped me with law school applications as well as with my Augie Choice.
Finally, Christine Aden in the library has been the best manager, and I've loved working there the last three years.
Peak experience?    
My peak experience over the last four years was doing my own research for my Senior Inquiry, and being able to write my own major paper. I'm so proud of what I was able to write, and how the topic effected my future.
I used this paper as my writing piece for my law school applications, and the subject matter has influenced the type of law I want to pursue. I also loved presenting the topic, and hearing feedback from the history department.
What surprised you?   
I was surprised to discover how much I was able to accomplish over the last four years. I never expected to receive the scholarships I've gotten, the jobs I was hired for or the internship I've done. It's been humbling, and I'm very proud to think about the opportunities I've received and what I've accomplished. I cannot thank the faculty and Augustana enough.
How did you use your Augie Choice?    
I used my Augie Choice as a stipend for my internship. I saved the money from the stipend and bought myself a new computer to last me the next few years.
What will you miss the most?    
I will miss my professors and my friends the most. I've had the best mentors at this school, and I plan to stay in touch with them in the future. I'm also so thankful for the friendships I've cultivated while being here. I've made lifelong friends, and I'll miss seeing them every day.
Advice for the Class of 2025?
Become friends with your professors. They're here to help you and are the best resource we have on this campus. I also recommend taking advantage of Augie as a liberal arts school. Take classes in and pursue all of your interests. You'll make great friends and have great experiences this way.
"Monica has found her calling at Augustana. She has combined her passions and talents — refined through a double major in history and art history — to focus on thorny issues connected to the provenance of important works of art held by museums. Having gained admission to her top law school choice, she will develop additional skills to help her fulfill this calling in pursuit of justice, with special attention to art stolen from Jews during the Holocaust."