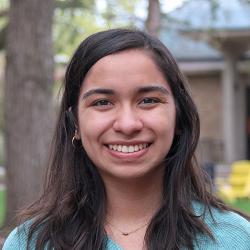 More Than I Imagined
Seniors reflect on accomplishments and look ahead
Lupita Toscano
Graduation year: 2021
High school: Alleman High School
Hometown: East Moline, Ill.
Majors: Accounting, business administration (international business)
Minors: Data analytics, Spanish
Activities: Búhos (service club to provide English classes for English language learners in the community); VITA (Volunteer Income Tax Assistance) program
Internships: Tax internships with RSM and PricewaterhouseCoopers
Post-grad plans: Study for the CPA exam and work as a postgraduate technical assistant for the Governmental Accounting Standards Board for a year.
Why Augustana?
Besides the beautiful campus, I chose Augustana because of its liberal arts approach and small classroom size. During my time at Augie, I have explored other fields and gained new perspectives, which is exactly what I wanted. The small class environment also made it easier to connect with professors and ask for help/advice.
Are you where you thought you'd be when you first came to campus?
I never imagined being where I am today, but I know I'm exactly where I'm supposed to be. To this day, I still cannot believe I had the opportunity to participate in two incredible internships and have full-time job offers before graduating. I'm thankful to Augie for allowing me to realize my full potential and helping me become the person I am today.
Who helped you get to where you are now?
My experience at Augie has indeed been more than I imagined and one that would not have been possible without the support of my family, friends and professors.
I'm thankful to every professor I've had for inspiring, challenging and helping me become who I am today. In particular, Professor Marmé and Dr. Delaney have played a significant role in my academic and personal development.
Aside from being my business advisor, Professor Marmé has been a role model. I have always admired how invested she is with her students; she truly sees the best in everyone and cares about us individually.
Dr. Delaney has also provided me with continuous guidance and advice. He helped me find my passion for accounting and has shown me the various paths my accounting degree could take me. Dr. Delaney will work endlessly to help each of his students achieve their goals and obtain a full-time job before graduating.
Peak experience?
It's hard to pinpoint a peak experience when I've had so many, but my internship with RSM is a memorable experience because it was my first internship. During my junior year, I interned with RSM as a tax intern and enjoyed every second of it! I was able to form new connections, and it was a great learning experience that made me excited for the future.
What surprised you?
The dedication of the accounting department to its students surprised me the most. The department truly sets its students up for success. Thanks to the accounting department and CORE, I felt ready and confident for every interview. I could not have landed the internships I had without the department's support and guidance.
What will you miss the most?
I will miss the beautiful campus and everyone I've met during these four years. I'm genuinely grateful to have met so many amazing people, including my professors, friends and people in the community, who have made my experience at Augie one I will never forget. I hope they know how much I look up to and appreciate them.
Advice for the Class of 2025?
Don't limit yourself. Take advantage of every opportunity because each one will help you grow professionally and personally. You'll be surprised by how far you can go when you try something new. Remember that the Augie community believes in and supports you in all your dreams.
"What can I say about Lupita? She is one of the strongest students I have seen in my 30 years at Augustana College. As a student she has shown exceptional intellectual acuity that is matched only by hard work. She was nominated and then selected for one of the biggest national awards in accounting (her other major, darn!), but it has not changed the way she presents herself. She is ready to listen, ready to learn and best of all, ready to share what she learns with others, and she has done all this with gentleness and self-effacing humility. I am grateful to have the pleasure of knowing her."