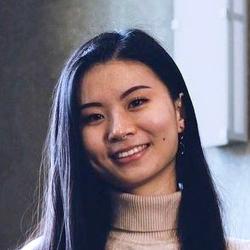 More Than I Imagined
Seniors reflect on accomplishments and look ahead
Genesis Yinuo Li
Graduation year: 2021
High school: Rio Lindo Academy in Healdsburg, Calif.
Hometown: Beijing, China
Major: Political science
Minors: Philosophy, communication studies, ethics
Activities: Student Advisory Council of the Political Science Department; Presidential Student Advisory Board; Student Government Association; American Model United Nations; Learning Commons tutor; OSL Washington D.C. Leadership Program; Pre-law Club; Politics Club
Internships: Office of Congresswoman Cheri Bustos (17th District of Illinois); World Relief in Moline, Ill.
Post-grad plans: I will start the Masters in Public Administration program at Cornell University, College of Human Ecology, in August.
Why Augustana?
Mainly for two reasons: First, I studied and lived in a private Christian boarding school in Northern California for four years. As a high school senior who was transitioning to college, I wanted to choose a college/university that had Christian values and a great history.
Secondly, I value liberal arts education. Taking classes from all kinds of perspectives really broadens my views and knowledge in different fields of study.
Are you where you thought you'd be when you first came to campus?
It was a huge transition for me to move from California to Illinois, regarding the cultural differences and the weather particularly. My honest thought at first was that there was a big difference between the number of students of color at Augie and the number of students of color at my high school in California. However, I am glad I gradually adapted to my Midwest life at Augie. I made my own network that included the president of the college and various professors who were willing to help me.
Who helped you get to where you are now?
There are so many people who I am really thankful for. To begin with, I value my religion (Christianity) so I always put God first. Without Him, I am nothing.
Secondly, I am grateful for my parents, especially my mother. She is an accomplished businesswoman and a compassionate mother who cares about me so much. She was also the one who encouraged me the most to study in the U.S. by myself — living in a boarding high school by myself since the age of 13 in California. My family members are all in Beijing and around China; they did not come with me. I really became so much more independent along the way. All thanks to her.
Thirdly, I want to express my great gratitude to President Steve Bahls and Mrs. Jane Bahls. They offered me great advice during my four years at Augie. President Bahls was one of my recommenders for grad school, including Cornell. I am beyond thankful for him.
Lastly, I am thankful for the professors in my political science department, and Dr. Dan Lee and Dr. Deke Gould.
Peak experience?
There are two peak experiences for me. The first is my internship experience at Congresswoman Cheri Bustos' district office. There I met my work supervisor, Ellie LaBotte, who is still in touch with me today and who offered me great insights and mentorship along my way from Augie to Cornell.
The second one was the Washington, D.C., trip hosted by the Office of Student Life. It really opened my eyes and encouraged me to study public administration after Augie.
What surprised you?
How much I have grown throughout my four years at Augie. If I hadn't pushed myself and worked hard, I never would have received an acceptance letter from a prestigious institution like Cornell. Augie offered me tremendous help along the way. I am forever grateful for the network of mentors that I have here. I am honored to know all of my mentors, especially President Bahls.
How did you use your Augie Choice?
I used my Augie Choice for my summer internship at World Relief. It was such an amazing experience. I am thankful that Augie gives each student $2,000 for Augie Choice. I met a really good friend at my internship site, and I know we will be friends for life.
What will you miss the most?
Definitely the people. Especially professors like Dr. Dan Lee, Dr. Lucy Burgchardt, Dr. Deke Gould and all the professors in my political science department who offered me tremendous help throughout my four years.
Again, President Bahls and Mrs. Jane Bahls are two people who I am forever grateful for because of their mentorship in my life. Lastly, Joe Giffen from CORE fixed my résumé so many times and offered me great grad school advice. I am just super thankful for everyone who has helped me!
Advice for the Class of 2025?
Do not be afraid of failures! Remember the saying: "Most great people have achieved their greatest success just one step beyond their greatest failure." My success story is a real example of this saying. Do not give up, even if you are going through a difficult time!
"Genesis is absolutely first-rate! A paper she wrote for medical ethics is an example of the quality of work that she does. A native of China who came to the United States as an international student while in high school, she is very familiar with the political situation in the People's Republic of China. She is also deeply interested in human rights issues. She is a joy to have in class!"