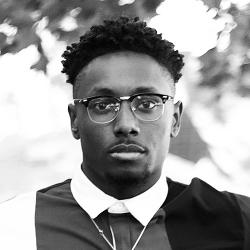 More Than I Imagined
Seniors reflect on accomplishments and look ahead
Jacob Washington
Graduation year: 2021
High school: Rich Central High School
Hometown: Olympia Fields, Ill.
Majors: Communication studies, multimedia journalism and mass communication
Activities: Black Student Union, Multicultural Men's Association, Associated Colleges of Illinois 
Internship: EDGE Summer Intensive 2020
Post-grad plans: TBA
Why Augustana?    
I chose Augustana as the college for me because other than the financial benefit both of my parents attended here and were members of Black groups on campus. I thought if they found a good college experience here, then I should consider this campus. In addition to that, I did find the campus beautiful and loved the offer of Augie Choice that allows students the financial benefit to intern or even study abroad in an array of places.
Are you where you thought you'd be when you first came to campus?  
Honestly, I am not. I didn't even see myself completing my education here as I felt I didn't see a lot of representation for those who looked like me or an understanding for what I as a Black student and person go through. Now as I look back, I respect the choice for me to stay here past my first year and allow myself to grow and work in spaces for students of color and contribute to a community that gives space to Black students.
Who helped you get to where you are now?
My family and friends both at home and who I consider close on campus helped on my journey to where I am now.
Peak experience?    
My peak experience was going on the trip to Selma, Ala., sponsored by the Office of Student Inclusion and Diversity. On this trip, I felt an awakening in me in regard to my relationship with Blackness and identifying with Black Culture. To be able to be in the same places as pivotal leaders in the fight for Black Freedom, as well as understand the amount of loss Black people have faced, led to a shift I felt regarding how I interacted with my culture and how it must be preserved.
What surprised you?    
My work ethic. You never really know what you are capable of until put to task with challenging circumstances and my experience here as a student and in leadership roles.
What will you miss the most?    
To be able to arrive on campus early at the beginning of the year and to see everything and experience everything without everyone here. You really get to experience the campus and the beauty it exhibits.
Advice for the Class of 2025?  
There is always room for improvement to learn and grow so never take experience or knowledge for granted.
"Jacob exemplifies Augustana. He's a learner, leader and — most of all — curious. When Jacob began our course on digital-media skills, his frustration was obvious. Tech doesn't always cooperate. A year later, his Senior Inquiry project included some of those skills, plus some skills that exceeded what we had covered in class. I asked him where he learned them. 'Oh,' he said casually, 'I taught myself.' That's Jacob — the learner — and that is what an Augie education is all about."