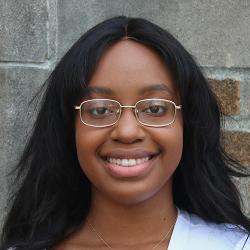 More Than I Imagined
Seniors reflect on accomplishments and look ahead
Faleya Scales
Graduation year: 2021
High school: Southland College Prep Charter High School
Hometown: Park Forest, Ill.
Majors: Psychology, history
Minor: Philosophy
Activities: Habitat for Humanity Augustana College Chapter, Augustana Prisoner Pen Pal Program
Post-grad plans: Currently searching for a job in the field of psychology. After a year, I plan to pursue a master's in forensic psychology.
Why Augustana?
I chose Augustana because of the fact that it was a small liberal arts school, and I knew that enrolling here would allow me to be more than just a number. Also, I knew that coming here would help me achieve my goal of gaining a better perspective of the world because my ultimate goal is to always be better than the person I was before. It might sound cliché, but coming to Augustana has definitely made me a better student, learner and person.
Are you where you thought you'd be when you first came to campus?
I have surpassed my expectations of who I thought I would be toward the end of my college experience. When I first came on campus, I did not really have any expectations for myself when I left college. I was nervous, very shy and a little scared because I was far away from my home and my usual environment. However, I am not that same person. I have grown and learned so much, and I am a lot different from the person I was when I first entered Augustana.
Who helped you get to where you are now?
My roommates helped me get to where I am now by providing support and helping me get out of my comfort zone and encouraging me to become better.
Also, my professors and major and minor advisors played a huge role in shaping me into a better student. Every time I have taken one of their classes, I learn something that could be used later in my life and in my career. They have had such an impact on my learning, which in turn has allowed me to reach many of the goals I had planned for myself.
Also, my supervisor(s) at my on-campus job also helped me to become a better worker and taught me the importance of working with others as a team. I have too many people to thank for helping me become who I am today.
Peak experience?
My peak experience was during my freshman year when three close peers and I put on a presentation for Celebration of Learning. Our presentation was on a highly important topic that focused on the use of a racial slur amongst those with higher privilege. The presentation may not have been completely successful, but we made a huge impact on a lot of people. It was a very empowering moment for me, being a Black woman on this campus.
What surprised you?
What surprised me was how friendly and welcoming all of the staff and faculty were upon my entering. They really did help me a lot, and I did not mind it. They were also encouraging and followed my progress just to make sure that I was on track for graduation. I really appreciated their kindness, and I don't know where I would be if I didn't have their help along the way.
What will you miss the most?
What I will miss the most is the overall experience of being on campus. It is much different from what I have experienced before at high school or anywhere else. Being surrounded by other students who are eager to learn, seeing student events taking place on the Quad(s), studying in the Gerber Center, etc. are what I am going to miss the most. I'm happy that I got the chance to experience these things, and I will forever cherish them in my memories of my time here.
Advice for the Class of 2025?
Do what makes YOU happy. This applies to situations such as choosing a major and participating in activities. Find something(s) that you are passionate about and improve your skills in that. Don't place yourself inside of a box — always live outside of it.
"Some people talk because they have to say something. Faleya talks when she has something to say. I'll never forget her first in-class presentation. Faleya is normally quiet and soft-spoken. But wow! The moment she faced the group, she commanded the room. It was like listening to a great TED Talk. They say communication is 80% of success in a career. I'd say Faleya is ready for takeoff."