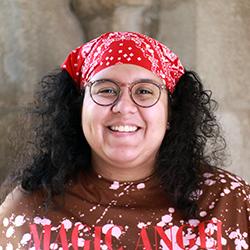 More Than I Imagined
Seniors reflect on accomplishments and look ahead
Ashley Zariñana
Graduation year: 2021
High school: Woodlands Academy
Hometown: Waukegan, Ill.
Majors: Psychology, sociology (social welfare)
Minor: Women, gender and sexuality studies (WGSS)
Activities: Sigma Pi Delta sorority (honorary)
Internship: World Relief in Moline, Ill.
Post-grad plans: I plan to attend Dominican University and obtain my master's in social work.
Why Augustana?
As a first-generation student, I was overwhelmed in choosing the perfect college. As soon as I visited Augustana, I immediately got the feeling that I was home and that I had found the place where I belonged. I knew that in attending Augustana I would be able to achieve one of my biggest dreams: graduating college, while also having the support of the Augustana community.
Are you where you thought you'd be when you first came to campus?
Being a first-generation college student can be difficult and overwhelming. I had no clue what college had in store for me. However, the Augustana community prepared me and pushed me to find my passions which I am very grateful for. Thanks to Augustana, I found my passion for helping and serving others as a future social worker.
Who helped you get to where you are now?
I have a lot of people to thank for my journey. I would like to thank my family, especially, who immigrated to the U.S. with nothing and gave me everything I needed to succeed. I was constantly supported and cheered for regardless of the path I chose to take. My family was and has always been there for me throughout my journey.
I would also like to thank my professors, who pushed me outside my comfort zone to speak my mind and stand up for what I believed in. I would like to especially thank the professors in the sociology, psychology and WGSS departments. There were times when I felt that I would not make it. and they reassured me that I was here for a reason. They are why I am where I am today.
Many doubted me and my abilities, but thanks to everyone who helped me throughout my college journey, I can proudly say I made it and that I will be the first in my family to graduate college and continue my journey into graduate school for social work.
Peak experience?
The peak of my college experience would have to be my J-term trip to Guatemala my junior year. I will never forget the abundant memories I made with my classmates and the amazing people I met during the trip. I was able to submerge myself completely in the Guatemalan culture, and I will forever be grateful for the opportunity to do so.
My trip to Guatemala changed my life forever. I can honestly say that 10 days was not long enough. A piece of my heart stayed in Guatemala the day I left.
What surprised you?
Honestly, my entire college journey surprised me. I never imagined that I would be able to attend college. I didn't even know what to expect when I first arrived. I also never imagined that the Augustana community, especially the professors and friends I was able to make, would be such a key part of my journey. I am still very happy with my decision.
How did you use your Augie Choice?
I used my Augie Choice when I took my trip to Guatemala. I was able to afford to take the trip as well as buy other necessities for the trip.
What will you miss the most?
I will miss the Augustana community the most. This includes professors and classmates/friends. I will also miss the beautiful campus. Walking to class and being able to see friends and enjoy the scenery was my favorite part of my days.
Advice for the Class of 2025?
Never give up. There are days where you'll feel like you don't belong or aren't good enough, but YOU ARE. Augustana has a place for everyone. Reach out to professors and friends. Find your people. Don't stress so much; enjoy college because time flies.
"Ashley has demonstrated critical thinking, awareness of diversity and incredible passion as a student. She has been recognized on the Dean's List, traveled to Guatemala for the childhood service-learning program, was a double-major/minor, and was recently accepted to graduate school! She has experienced all this success while working and navigating college as a first-generation college student. Her original Senior Inquiry research project, which examined the Latinx immigrant experience, is especially significant, revealing immigrant injustice issues in the U.S. Ashley has been a joy to work with, always respectful, thoughtful and professional!"