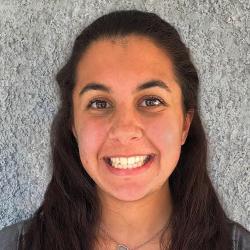 More Than I Imagined
Seniors reflect on accomplishments and look ahead
Zeana Badawi
Graduation year: 2020
High school: Hinsdale Central
Hometown: Burr Ridge, Ill.
Major: Accounting     
Activities: Varsity tennis (all-CCIW three years and finished sixth on the Vikings all-time list for total victories), Phi Rho sorority
Internship: Accounting intern at John Deere
Post-grad plans: Accepted an audit associate position with Grant Thornton LLP in Chicago
Why Augustana?
I chose Augustana because of the sense of community that fills the campus. Every single student, professor and faculty member care about your well-being. I also wanted a school where academics was going to be treated as my first priority while playing for a competitive tennis program.
Are you where you thought you'd be when you first came to campus?
Absolutely not. I came to campus as a chemical engineering major, and my sophomore year, I decided to switch to accounting. I was nervous to be completely switching majors, to the point where I almost didn't because I thought I had no other option. However, I received an overwhelming amount of support from the accounting department to made sure I would be able to complete all my requirements to graduate on time, and take advantage of every opportunity that they offered.
Who helped you get to where you are now?
All of my professors and coaches have supported me throughout my four years, but there are a few that I would like to highlight: 
Professor John Delaney and Professor Nadia Schwartz – I cannot thank them enough for helping me through the transition of majors. They both provided unlimited support and guidance. It was with their advice and encouragement I was able to find my internship, and eventually a full-time job post-graduation.
Coach Jon Miedema – For constantly believing in me, and for helping me believe in myself. He pushed me every single day to become not only the best player I could be, but also the best leader. He taught me lessons that I will use in my life after college. Thank you for giving me the best four years of tennis I could've asked for.
Peak experience?
My favorite memory hands-down is qualifying and participating in the NCAA tournament. In our 2016-2017 season, our team had only six players, but we won the CCIW conference tournament in the fall and qualified for the NCCA tournament in the spring. That has never been done before. As a freshman, this was such an honor, and I am so grateful that I had the opportunity to be part of such a historic team.
What surprised you?
Coming into college, I did not have as much confidence in myself as I do now. Four years later, I am surprised by how easily I am now able to adjust to new groups and situations. Over the years I learned how to use my voice for those who cannot, and how to be a leader and team player at the same time.
How did you use your Augie Choice?
I used my Augie Choice to help fund staying in the Quad Cities over the summer during my internship at John Deere.
What will you miss the most?
I will miss Augie's beautiful and welcoming community the most. All of my friends, professors/faculty and teammates have helped make my college experience the best I could've asked for. The friendships and connections I have made are irreplaceable, and I cannot believe I soon won't be living five minutes away from all of them.
Advice for the Class of 2024?    
Take advantage of every opportunity given to you! You never know what's out there until you look. And remember to cherish every single moment (the good and bad) because four years will go by quicker than you think, and one day you'll be a nostalgic senior wishing you could do it all over again.
"Zeana has been an outstanding player for us since day one. She has a competitiveness and drive that has always helped our team. I can't think of a match in four years where I didn't feel like Zeana gave her all, and that's impressive. She was a huge part of several championships while at Augustana, and I'm incredibly proud and thankful for the time that I get to spend with her out on court."