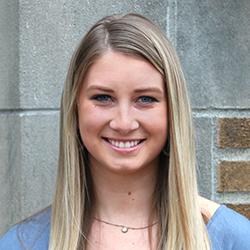 More Than I Imagined
Seniors reflect on accomplishments and look ahead
Kelli Johnson
Graduation year: 2020
High school: Sycamore High School
Hometown: Sycamore, Ill.
Majors: Accounting, business administration-management          
Activities: Delta Chi Theta sorority, Mortar Board, tutor, Becker CPA campus ambassador, Active Minds
Internship: Summer 2019 internship at Ostrow Reisin Berk & Abrams (ORBA), an accounting, tax and business consulting firm
Post-grad plans: I will be working as a full-time staff accountant at ORBA in downtown Chicago and studying for the CPA exam as well.
Why Augustana?
I chose Augustana because I value the many perks of a small-sized liberal arts school. While visiting, I could already feel the presence of a strong community, and I could envision myself as a part of it. Additionally, the CORE office and Augie Choice persuaded me that Augie cares about the professional development of each individual student.
Are you where you thought you'd be when you first came to campus?
If someone revealed to me on my first day at Augie what I would experience and accomplish by the end of my senior year—I would be in disbelief. Augustana and its people have encouraged and motivated me to be more outgoing and driven than I could have ever challenged myself individually. This especially holds true throughout my junior and senior years, when I had to suit up and stand professional as I searched for internships and full-time jobs. I am proud to say that I did land that internship!
Who helped you get to where you are now?
Countless people have helped me—in ways big and small. I owe so much to my Augustana professors across all disciplines I have studied. Most significantly, I am beyond grateful for those professors who went above and beyond for me as an individual. Dr. Delaney and Dr. Schwartz had a significant positive impact on my learning and professional experience, and I feel so grateful to have had the opportunity to build a strong relationship with them as a student.
Of course, my family, friends and sorority sisters have helped me through consistent encouragement, support and confidence. I depended on them more than they know.
Peak experience?
My peak on-campus experience was my Senior Inquiry—shocking, I know. I participated in a business simulation and was so overwhelmingly surprised by how much I enjoyed the project. It gave me the opportunity to learn about all aspects of a business and how decisions in all business disciplines impact the future of a company, and I was able pitch my team's business to actual venture capitalists. Reflecting on my SI experience, I am so proud and grateful for what I was able to do and learn.
What surprised you?
I am surprised by how much I stepped out of my comfort zone and sought leadership during my time at Augie. I transitioned from being fearful of new opportunities as a freshman, to now eagerly wanting to get involved with every opportunity that's presented to me as a senior. I know that my friends and professors played a large part in that with their consistent encouragement.
How did you use your Augie Choice?
I used my Augie Choice to live in downtown Chicago while I interned at an accounting firm.
What will you miss the most?
The people at Augie will by far be the hardest to let go of upon graduation. Ranging from friends and roommates to professors, so many people have played such a large role in my growth and experiences while at Augie. They will forever be so special to me.
Advice for the Class of 2024?
You get out what you put in to your experience at Augie. Challenge yourself both socially and academically to do great things while you're here. Your time is limited, and it goes fast—so be sure to do what makes you happy and betters you.
"Kelli is our Outstanding Senior Accounting Student this year for good reason. She has done a tremendous job in all her accounting classes, and she has provided terrific service to our department as a student ambassador and tutor. Kelli is also active in several other groups on campus so there is no doubt she is getting the most out of her time at Augustana. She will soon take the CPA exam and begin a career in public accounting with Ostrow Reisin Berk & Abrams Ltd. in Chicago. She will be a star at ORBA, and I look forward to following Kelli's success in the years to come."