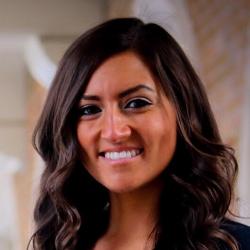 More Than I Imagined
Seniors reflect on accomplishments and look ahead
Haley DeGreve
Graduation year: 2020
High school: Alleman High School
Hometown: Moline, Ill.
Majors: Communication studies, business administration-marketing 
Minor: Multimedia journalism and mass communication
Activities: The Gray Matters Collective, Phi Rho sorority, Sexual Health and Violence Prevention Peer Educators, Mortar Board, Dance Marathon
Internships: Communications student at John Deere; social media manager at Foster's Voice Suicide Awareness
Post-grad plans: Full-time dealer parts management analyst at John Deere
Why Augustana?
Initially, I was set to go to a big state school. However, Augustana kept popping up everywhere, and I took it as a sign to go visit. The second I stepped on campus, it felt like home (I've found this to be true over the years). Everyone is so welcoming, and I've learned so much from the unique, fascinating people surrounding me. Before Augustana, I thought someone would hand me a road map for my future, but I learned that I already had the plan, I just had to take the first step.
Are you where you thought you'd be when you first came to campus?
Not one bit. When I first came to Augie, I never imagined I'd be studying communication or marketing. I initially wanted to go into management. I never thought I'd have an internship at John Deere or be doing the mental health advocacy work I'm in now. Augustana truly helped me find my passions and keep working at them. I've found my vocation here. I'll always be grateful for the failures, lessons learned and teachable moments that led me to who I am now.
Who helped you get to where you are now?
I wouldn't be here without the love and support from my family. Through every step of the way, they've been by my side—encouraging me to keep moving forward, no matter how hard life gets. They support my decisions and crazy ideas, and have accepted my faults and loved me all the same. To me, that's irreplaceable, and I'm grateful to have them next to me through it all.
I am also eternally thankful to the amazing Augustana administration that guided through some of my most challenging moments: President Bahls, Dean Brooks, Farrah Roberts, Emilee Goad, Dr. Bill Iavarone, Mrs. Marmé, Dr. Choi, Dr. Boone, Dr. Schultz, Dr. Normoyle, Pastor Priggie, Dr. Nodulman, Dr. Smith and so many more I could name. Without these people, I truly would not be as strong as I am now.
Lastly, I am grateful to my mentors who continuously challenge and support me: Deacon Aaron Hoste, Julie Stamper and the John Deere Parts family, the Atwoods, Ashley Stice and the whole Northwest TEC community. I am so blessed.
Peak experience?
My peak experience at Augustana was launching The Gray Matters Collective. What started as a small mental health awareness campaign grew into a giant collective of students and community members healing and educating. My experience with The Gray Matters led me to meet so many amazing people and work with some wonderful administrators. This collective taught me so much about mental health, suicide prevention and myself. Without this experience, I wouldn't be giving a TED talk in May 2020.
What surprised you?
My own capabilities. I'm one to always doubt myself, but through some amazing professors constantly challenging me to do and be more, I worked on it. I was quickly amazed at how much I could do with what I had. In fact, I never thought I'd have the courage to do what I'm doing now. However, nothing scares me anymore because I know exactly who I am and what I stand for.
How did you use your Augie Choice?
I used my Augie Choice through my internship at John Deere Worldwide Parts Services. This allowed me to focus on my work, without having to worry about things like supplies, gas or food. Because of my Augie Choice, my internship experience was nothing short of exemplary.
What will you miss the most?
There's so much I'm going to miss about Augie. However, I'm really going to miss the incredible administration and faculty. So many of these people have been with me through some of my greatest achievements and worst moments of my life. They've never failed to support me and do whatever they could to ensure I had to tools to "just keep swimming." Because of these people, my life is changed for the better. My heart will always bleed blue and gold (with a little John Deere green, too)!
Advice for the Class of 2024?
Trust yourself. If you have a question, an idea, a solution—have courage to run with it. Don't ever be afraid of failure because you will only become stronger and better because of it. You can either Fear Everything And Run or Face Everything And Rise. The most beautiful thing? You get to choose.
"Haley is exceptionally passionate about social issues, thriving in her career, and becoming a future public figure who will inspire many young future leaders, with her brilliance and academic achievements under her belt."