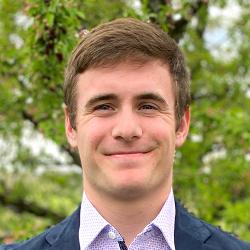 More Than I Imagined
Seniors reflect on accomplishments and look ahead
Chandler Behrens
Graduation year: 2020
High school: West Aurora High School
Hometown: North Aurora, Ill.
Majors: Economics, business administration-finance
Activities: Student Investment Fund Club
Internship: Finance and accounting intern with HNI Corporation
Post-grad plans: Financial analyst for HNI Corporation
Why Augustana?   
Augustana provided a "homey" environment and was the first school I visited. After my visit to Augustana, every other school I went to was compared to it, and nothing stacked up.
Are you where you thought you'd be when you first came to campus?   
To keep it simple, no. I had no idea what to expect and where I was going to end up. As the years went on, I was able to develop academically, professionally and personally. I have been able to gain knowledge about a variety of things that are unrelated to my field of study, and I embrace this knowledge fully. I have grown exponentially as a student and person since coming to Augustana, and I could never have predicted this when I first came to campus.
Who helped you get to where you are now?    
First, I have my family to thank for helping me get to where I am today. Their consistent support and desire to push me to be the best I can be have helped propel me forward and set me up for success in the future.
I also have my advisors to thank. First, Jayne Rose for recognizing my ability to graduate in three years and turning me to both the economics and business departments to get situated quickly.
Second, both Dr. Marmé and Mrs. Marmé played a pivotal role in planning out my three years and ensuring that I got into the classes that I needed to. They have been wonderful in every aspect, and I cannot thank them enough for everything that they have done for me.
Without my advisors and their willingness to help and work with me, I do not think I would be where I am today.
Peak experience?    
My peak experience comes from my study abroad J-term in Bonaire in the Caribbean. The class associated with the trip was geology, which clearly has nothing to do with my field of study. Despite being out of my normal realm of studies, I learned a ton of new information and had the experience of a lifetime. From Scuba diving to hikes in the national park, I will remember this experience for the rest of my life.
What surprised you?    
The most surprising thing to me was how each professor I encountered was willing to go the extra distance to ensure my success and make sure I thoroughly understood what was being taught. The professors served as fantastic educators, but also an outlet to discuss future plans with and build a personal relationship with.
How did you use your Augie Choice?  
I used my Augie Choice for my trip to Bonaire. This allowed me to experience the island on both land and water through various Scuba diving excursions and visiting geologically significant landmarks throughout the island.
What will you miss the most?    
I will miss the people at Augustana the most. The friendships I have developed with both my peers and professors will carry on into my future. It will be odd not having the people I have grown close to over the last three years five minutes away from where I live. The people at Augustana have helped shape me into the person I am today, and I am thankful for that.
Advice for the Class of 2024?
First, take advantage of all the resources Augustana has to offer you. This will help you grow both intellectually and socially. Second, friendships will develop in ways you may have not thought they would; embrace this and always keep your mind open!
"I have had the honor of working with many excellent students in my 32 years at Augustana. Few can compare to Chandler. In every course, without fanfare, Chandler has done his utmost to learn as much as he possibly can. I consider myself incredibly lucky to have been his professor and his advisor and am confident that the future holds great things in store for him."