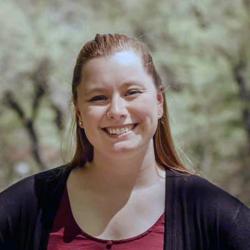 More Than I Imagined
Seniors reflect on accomplishments and look ahead
Carissa Boerboom
Graduation year: 2020
High school: Rosemount High School
Hometown: Inver Grove Heights, Minn.
Majors: Accounting, business administration-finance
Minors: Mathematics, data analytics
Activities: Varsity swimming, Concert Band, Advertising Developers (ADs), Honors Program
Internships: Data analytics intern (Woodchuck USA); financial analyst intern (RSM US LLP)
Post-grad plans: I will be working for RSM US LLP as a data analyst in Minneapolis, Minn., and pursuing my CPA certification.
Why Augustana?    
Ultimately, I chose Augustana because I liked the feel of campus, and everyone I met was welcoming and supportive. When I was first looking at different colleges, I knew I wanted to continue my athletic career in addition to my studies. I was not only able to continue swimming, but I also had the opportunity to continue playing clarinet and reach my interdisciplinary academic goals.
Are you where you thought you'd be when you first came to campus?    
Kind of, but not really. I always knew that I wanted to go into a mathematical and financial side of business, but I wasn't entirely sure what that role was. When Augustana announced the addition of the data analytics minor, I immediately reached out to my advisors for more information. After talking with them, and the first data classes, I knew that was the path I wanted to pursue.
Who helped you get to where you are now?  
There are so many people at Augustana who became a part of my support system. I could not be where I am today without the help and support of my professors, teammates and family.
I especially want to thank my professors Dr. Clauss, Dr. Delaney, Professor Marmé and Professor Schwartz. They were exceedingly helpful in helping me not only succeed in the classroom, but also grow into the person I am today.
Dr. Clauss, Dr. Delaney and Professor Marmé were three of my academic advisors. They were always so supportive and challenged me to pursue my goals. They provided me with valuable life advice, and I always knew I could find them in their office if I needed (or wanted) to talk.
Professor Schwartz was the reason I became an accounting major and persuaded me in the benefits of taking the CPA exam. She was one of the most caring and dedicated professors I had, and encouraged my success beyond the classroom.
Peak experience?  
I'm not sure how to narrow it down to just one, but if I had to choose, it would probably be my trip to Germany, Austria and Switzerland—specifically, when I climbed an alpine mountain with Dr. Keehn and one of my classmates. While there were interesting moments during the climb, we ultimately made it to the top, and it was a very rewarding experience.
What surprised you?  
What surprised me the most was how invested the professors were in me, as a person. Even as a first-year student in an introductory-level class, I was never just a name on their roster. They were always willing to listen when I needed help or just wanted to talk. I never thought I could have such close relationships with them.
How did you use your Augie Choice?    
I used my Augie Choice to go on the Alps trip the first few weeks of summer after my junior year. We went to Germany, Austria and Switzerland to apply the science and music courses taken during spring term.
What will you miss the most?    
All of the people who have made me call Augustana home the last four years. My friends and teammates have become like a family to me. We might not all be together, but the memories we made will last a lifetime. The relationships are truly what made Augustana so special.
Advice for the Class of 2024?    
Don't be afraid to ask for help! Everyone at Augie is so willing to assist you in any way they can. As a first-year student, I was scared to ask for help from classmates or professors when I didn't understand something. Looking back now, there is no way I could have made it without asking for help.
"I had the privilege to see Carissa develop as an eager learner as well as a great athlete during her four years at Augustana. Whether it was as a swimming and diving team captain with early workouts and long meets or helping to tutor many students, Carissa showed tremendous work ethic, maturity and ability to structure her day to its full potential. She has many talents, and I look forward to hearing about her new endeavors!"