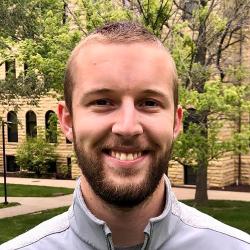 More Than I Imagined
Seniors reflect on accomplishments and look ahead
Bryson Adcock
Graduation year: 2020
High school: Iowa City West High School
Hometown: North Liberty, Iowa
Majors: Applied mathematics, computer science
Minor: Data analytics
Activities: Varsity football, mathematics tutor, Phi Beta Kappa
Internship: Analytics intern for Augustana's football program
Post-grad plans: Business Analytics Graduate Program at the University of Iowa 
Why Augustana?    
I visited a lot of schools when I was in high school. Several others that I visited multiple times seemed like a good fit until the second or third visit. Augustana did the opposite. The more times I visited, the more I felt like this was the place I could spend four years of my life. Meeting coaches, professors and students gave me the sense this was a good fit for me and that I could thrive in this environment. So after eight visits, I decide to commit to being a Viking.
Are you where you thought you'd be when you first came to campus?  
I am almost exactly where I thought I'd be when I came to campus. The journey may have been a little different than anticipated, but where I am now is where I wanted to be on day one. My goal was always to go the the University of Iowa for grad school. The classroom experiences and internship I had made it attainable.
Who helped you get to where you are now?   
The first person who helped me get to where I am is Dr. Sward. Sward was the first professor I met on one of my visits. Seems only fitting that he taught both my first and last math courses at Augie. Helping me with advising and his willingness to write recommendations made him instrumental to getting me to where I am now.
Another important professor was Dr. Stonedahl. Without his passion and flare for the wizardry of computer science, I wouldn't have become a major.
With the limited number of characters, I can't go into detail on the impact every professor in the math and computer science departments have had on me the past four years. So I would just say thank you to all of them.
As a football player, I had a large group of coaches willing to help me find success here. Coach Ragone is a coach in particular who helped me. His contacts in the sports analytics world helped me learn and grow. Every coach on the staff helped me out in some way so I am thankful for all their help.
Peak experience?   
My peak experience was working for the football program in an internship that I created with the help of Coach Ragone. This was both valuable and exciting because it was what I wanted to do and no one had done it before.
Living on campus this past summer was great because I could spend time with my best friends while working the internship I was passionate about. I also worked for admissions on Visit Days to tell future students how much I had enjoyed my time here.
What surprised you?    
What surprised me was how interested in my success all my coaches and professors were. I had very strong connections with many of them, and they were always interested to hear what my summer plans were or what my post-grad plans are now. And they didn't just ask. They offered help with recommendation letters and guidance any way they could. I'm very grateful for that.
How did you use your Augie Choice?    
This past summer I created my own internship with the Augustana's football program. I want to pursue a career in sports analytics, so this internship gave me an opportunity to gain valuable experience to help reach that goal. I used Augie Choice to pay rent since the internship was unpaid.
What will you miss the most?  
I will miss living near all my best friends most. The pandemic cut our time a few months short, but they were there for the best and worst memories I made these past four years. It will be difficult not living under the same roof or walking distance away from them next year. I appreciate all you guys have done for me. The cliché saying that you make some of your best friends and memories in college is absolutely true.
Advice for the Class of 2024?
Don't give up. College isn't easy, and there will be many unexpected challenges along the way. Rely on your family, friends, roommates, teammates, professors, coaches, etc. They can help you get through those tough times and help you learn and improve as a result.
"Bryson is an outstanding scholar and student-athlete, earning several awards including Academic All-Conference in football and the Harry Nelson Departmental Award in Applied Mathematics. Bryson is passionate about using his mathematical skills to analyze sports data and is planning on pursuing a graduate degree in data analytics. I have often seen Bryson refereeing for IM basketball games in the Pepsico Center; his dedication to mathematics and athletics at Augustana will be greatly missed."