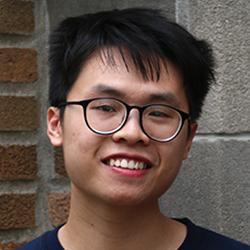 More Than I Imagined
Seniors reflect on accomplishments and look ahead
Tyler Pham
Graduation year: 2019
Hometown: Hai Phong, Vietnam
Major: Communication studies
Activities: UNYK Multicultural Dance Troupe, Alpha Delta Sigma advertising honor society, Omicron Delta Kappa leadership honor society, peer mentor
Internship: Social media and business logistics intern at Chateau of Art in Davenport, Iowa
Post-grad plans: Attend Illinois State University for my master's in communication studies
Why Augustana?
For me, the cost of attendance mattered most in my college search. I'm from Vietnam, so I really wanted to attend a school that offers a world-class education and generous financial aid package. Augustana offered me a generous scholarship so I could afford my education in the U.S. And when I came here, I knew it was meant to be.
Are you where you thought you'd be when you first came to campus?
Absolutely not. I came in with the intention of being an English teacher. However, I took a few communication courses to fulfill my learning perspectives and found out that I am passionate about social science research. I came to the major late, but I definitely made the best out of my last year here. Never did I think I would secure an assistantship to support my studies at grad school or present my research on a national stage, but here I am.
Who helped you get to where you are now?
I am really grateful for my professors, who not only supported me and gave me advice, but also pushed me to get out of my comfort zone and try my best. I send special thanks to my professors in the communication studies department, especially my advisor Dr. Varallo, for supporting me throughout my Senior Inquiry and grad school application, and Dr. Kunde for being a wonderful teacher. I came to the major late, but with their help, I was able to become a better writer and critical thinker and determine the area of research I will pursue in grad school.
I am also thankful for my family and friends, who gave me the courage to change my major and do what I love.
I am also extremely fortunate to have met my partner, who has given me love and support for my career. He has been there whenever I needed him and helped me with my life in the U.S. Without him, I would have struggled with living in a foreign country.
Peak experience?
It's hard to pick one, but I had a chance to present my Senior Inquiry at the National Conference of Undergraduate Research in Atlanta this past April. It was amazing to see my hard work over two terms pay off. I presented my research on a national stage and learned about my discipline through attending my peers' research presentations, which would not have been possible without me having the courage to apply in the first place.
What surprised you?
I learned that I am more capable than I give myself credit for. I did a lot in my time here. I had jobs on campus, did an internship, did research, traveled abroad and choreographed dances for my dance club since my first year. Now that I looked back, I realized that I have achieved much more than I envisioned. 
I also learned that sometimes plans change, and change can be good for you. If I never had the courage to make changes, I would never have come here.
How did you use Augie Choice?
I used my Augie Choice for my study abroad experience in Norway. We learned about the education system and visited many art museums in the country. However, the highlight was seeing the Northern Lights on our last day of the trip. It was truly magnificent.
What will you miss the most?
I will miss walking in the Quad every day in the spring. The sun, the grass, the flowers and the wind all give me positivity to go about my day and feel good about myself. The campus provides a familiar atmosphere that makes me feel at home, something I really appreciate about Augustana. I will miss going to class and meeting my favorite professors and classmates. They made my Augustana experience amazing and worthwhile.
Advice for the Class of 2023?
Learn how to manage your time. College is a lot of work, but it is all worth it if you know how strategize your time. Find a balance between schoolwork and self-care to avoid burning out. Also, embrace changes in your plan when you go to college. They can be transformative.
"Tyler had a banner year! He threw himself into his Senior Inquiry on linguistic discrimination and its remedies and produced excellent work that he presented in Atlanta for the prestigious National Council of Undergraduate Research. He kept the bar high all year, pushing himself because he saw the benefit not just to himself but to the Quad Cities' immigrant communities. We are so pleased that he'll be joining the master's program at Illinois State University. Working with him has been a privilege and a joy."