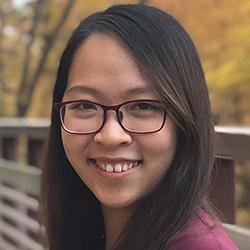 More Than I Imagined
Seniors reflect on accomplishments and look ahead
Thuy Trang (Janie) Le
Graduation year: 2019
Hometown: Ho Chi Minh City, Vietnam
Majors: Accounting, business administration-finance and business administration-marketing
Activities: Epsilon Sigma Alpha service sorority, Vietnamese Student Association
Internships: Finance and business services intern with Augustana's Fresh Films; fund accounting intern at Apex Fund Services (China); financial advisory intern at Auxesia Holdings Ltd. (Vietnam); accounting intern at WQPT Quad Cities PBS; data analyst intern (quality control sector) at QIMA (Spain)
Post-grad plans: After graduation, I will work for Deloitte Davenport in September as an audit and assurance staff member. I also plan to get my CPA and enroll in an MBA program in the future.   
Why did you choose to attend Augustana?
When applying to colleges, I wanted an institution with a liberal arts focus and small class sizes. Augie offers both. Augie's liberal arts education has pushed me to question and interpret life through different lenses. The small class sizes have given me the support I need from professors, advisors and career counselors to get me to where I want to be. Augie is also generous with funding, which was why I chose Augie from the beginning. 
Are you where you thought you'd be when you first came to campus?
I came to Augie with only one interest: pursue psychology and communication studies, then become an event planner. I've never thought I'd be where I am now academically (majoring in accounting, finance and marketing). I've never thought I'd be exposed to so many diverse opportunities to get involved on campus, make new friends, spend time traveling to different countries, and gain hands-on experience during internships.
Before coming to the United States, I had never pictured myself taking photos for the Athletics Office, joining a service sorority or learning two more languages (Chinese and German). Augie has truly helped me define my purpose, confirm my values and discover my hidden possibilities.  
Who helped you get to where you are now?
It is hard to mention everyone who has helped me during my college journey. However, I am blessed to have these amazing people who have always been there for me and given me valuable advice:
Thanks to my parents, brother and friends, who never cease to remind me of what I can do and are always there for me through the brightest moments and darkest days.
Thanks to Dr. Ann Ericson (business), who has been a wonderful listener and a role model that I'll always look up to. She is the most caring and supportive person that I have ever met.
Thanks to Dr. John Delaney (accounting) and Dr. Gregory Tapis (former accounting professor), who have believed in me and have opened my eyes to many career paths in accounting.
Thanks to Mamata Marmé (business) and Dr. Trang Phan (business), who have shown me the beauty of data and how I could change the experience of others.
Thanks to Schary Santamour (OSL) and Leslie Scheck (CORE), who have been amazing supporters and motivators that give me good advice.
No words can express how grateful I am to have them as not just advisors and professors, but also mentors and supporters that I cannot find anywhere else. Without their support, I could not be where I am today. Thank you so much. 
Peak experience?
My first peak experience was winning first place in the 2018 Rogers Business Plan Competition, where students present their business ideas to a panel of business professionals. My teammates and I worked really hard to put together a plan for a smartphone app that provides online mental health care services. In my senior year, I competed as an individual and made it to the Top 5 best business plans with a career mentoring service.  
My second peak experience was when I presented my research projects at the 2019 ASIANetwork Conference with Dr. Ann Ericson and the 2019 National Conference on Undergraduate Research with Dr. Trang Phan. Both experiences let me know how much I love data and opened another option for my career path.
My third peak experience was when Professor Mamata Marmé let me help her create a new SAS lab manual for next year's statistics course. It was my greatest honor to work with her and use what I have learned as a statistics tutor. I hope my project can help the next class see the beauty behind the data.
What surprised you?
After four years, photography and languages have proven to be more than just my hobbies, but a part of who I am. I have started taking photos since my first year and received some awards. I also know five languages, including Vietnamese, English, Chinese, German and Korean.  
How did you use Augie Choice? 
I used my Augie Choice to do my internship in Madrid, Spain, in the summer of my junior year. I worked as a data analyst intern (quality control sector) at QIMA and learned to do market research as well as important procedures in supply chain services for two months. I also traveled to 11 European countries and met so many amazing friends on the way. 
What will you miss the most? 
I will miss my friends, professors, advisors, supervisors and co-workers who have helped shape my personal and professional growth and make my college journey so memorable.
Advice for the Class of 2023?
Four years in college will never be enough. So, get out of your comfort zone, explore new places, meet new friends from all over the world and never give up your dreams.
"Janie is a wonderful example of a student who got the most out of her experience at Augustana. Not only is her performance in the classroom excellent, but her efforts and achievements outside the classroom are also noteworthy. She has had internships in the U.S., Spain, Vietnam and China. She conducted two outstanding research projects that she presented at conferences, and she won Augustana's Business Plan Competition in 2018. As a teaching assistant, she takes initiative and is completely reliable. I believe Janie will have great success in her future pursuits, and I wish her all the best."