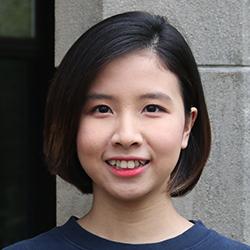 More Than I Imagined
Seniors reflect on accomplishments and look ahead
Thao Pham
Graduation year: 2019
Hometown: Hanoi, Vietnam
Majors: Psychology, communication studies
Minor: Sociology
Activities: Psi Chi psychology honor society, Psychology Club, Vietnamese Student Association, Phi Beta Kappa
Internships: (1) Society for Personality and Social Psychology Summer Program for Undergraduate Research at the University of California, Santa Barbara, and (2) Spring Forward Learning Center in Rock Island
Post-grad plans: Attend the University of California, Irvine for the Ph.D. program in psychological science (psychology and social behavior)
Why Augustana?
I did not get to visit the beautiful campus prior to coming to Augie. However, the people I interacted with throughout my application process (mostly Liz Nino, the director of international recruitment) made it clear to me that I would be able to find what I was looking for (a liberal arts education and a robust academic support system) at Augie. Augie also offered me a very generous financial package.
Are you where you thought you'd be when you first came to campus?
Not even close (in a good way). When I first came, I wanted to become a mental health counselor and pursue applied psychology. Never did I think that I would end up doing research and going to graduate school. I thought that wearing a white coat, spending time in labs and working with data was boring, but what did I know?
It was not until my third year when I finally stepped out of my comfort zone and got involved in doing research that I learned how exciting it is to put together a study and how rewarding it is to see the data yield significant results. I fell in love with it. I came thinking that I would go back to my home country after earning my bachelor's degree…turns out, I am staying for another 5+ years to pursue a doctoral degree.
Who helped you get to where you are now?
It is impossible to name everyone at Augie who helped me to get to where I am now. I owe a lot of my success to Dr. Jamie Nordling, Dr. Lisa Szafran, Ella Fly and Dr. Mark Salisbury, who encouraged me to step out of my comfort zone, guided me through countless moments of uncertainty, taught me to believe in myself and cared about me not only as a student and a supervisee but also as a friend and even a family member. I would not be where I am today without these four people. Their support and advice always came at critical moments and helped me make the decisions that define who I am today.
Peak experience?
My peak experience was attending the Association for Psychological Science 30th Annual Convention in San Francisco. It was my first time being at a national conference, and I still remember how delighted and inspired I was to be surrounded by "my people" who spoke "my language" and talked about "my passion." Attending the conference made me, for the first time, seriously consider pursuing a doctoral degree.
What surprised you?
I thought research was boring, but I learned that I am passionate about it. I also learned that I am stronger than I thought, and I have been too harsh on myself.
How did you use Augie Choice?
I used my Augie Choice for my summer internship at the University of California, Santa Barbara.
What will you miss the most?
I will definitely miss the people the most, especially Dr. Jamie Nordling.
Advice for the Class of 2023?
Things do not always go as planned but everything happens for a reason. Try something new. You may learn that your assumptions have been wrong the whole time. If you never try, you will never know. If you find out you don't like it, try something else.
"Thao has been an absolute pleasure to mentor over the last three years, and her departure from Augustana is bittersweet! I know that she'll succeed in her future endeavors in academia—she already thinks, writes and acts like a graduate student. Her ability to grasp and apply psychological constructs and statistical concepts is quite remarkable, and she is always thinking about possible research projects. Mark my words: we are going to learn a lot about relationship science from Thao! The future is in good hands."