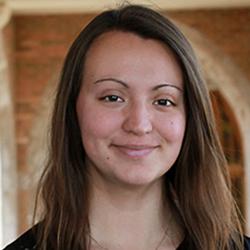 More Than I Imagined
Seniors reflect on accomplishments and look ahead
Sierra Kindley
Graduation year: 2019
Hometown: Weaverville, N.C.
Majors: Geology, environmental studies
Activities: Udden Geology Club, Sigma Gamma Epsilon honor society (earth sciences), Beta Beta Beta honor society (biology), Alumni Board, Chi Alpha Pi sorority, Honor Council, Augustana College Democrats
Internships: Student researcher, Upper Mississippi Center for Sustainable Communities, Rock Island; watershed resources intern, RiverLink, Inc., Asheville, N.C.; stream restoration intern, EcoMatters Environment Trust, Auckland, New Zealand; geology trainee, U.S. Army Corps of Engineers, Rock Island District
Post-grad plans: I will attend Duke University to pursue my master's of environmental management in water resource management.
Why Augustana?
When applying to colleges, I thought I wanted to attend a large school. Augustana was, by far, the smallest college to which I applied. My visit to Augie was the last of my college search, yet it was that visit to campus that made all the difference.
When I set foot on campus, something instantly resonated with me. I was in awe of the beautiful campus and marveled at the strong personal relationships students seemed to have developed with faculty and staff. I saw great potential for hands-on learning by having the opportunity to conduct research and fieldwork throughout my undergraduate experience, and I knew my identity would be defined by much more than a number. Indeed, these last four years have exceeded my expectations.
Are you where you thought you'd be when you first came to campus?
Although I knew I had a passion for geology and the environment when I came to Augie, I had not yet identified a specific interest within those disciplines. A multitude of classroom, internship and research experiences both on and off campus helped shape and nurture my interests beyond the surface understanding I had before.
I realized that I am particularly intrigued by the science and issues surrounding freshwater resources and have since chosen to further pursue this both academically and as a career. The path I have taken may not be exactly what I anticipated, but I could not be more pleased with where it has led me.
Who helped you get to where you are now?
A number of individuals have been instrumental in my success as both a student and individual. In particular, Dr. Arkle, Professor Arkle, Dr. Strasser, Dr. Wolf and Susan Wolf in the geology department, as well as Dr. Reisner and Dr. Geedey in environmental studies have served as my mentors.
They have fully invested themselves in me in order to help facilitate my growth and ultimately provided me with the tools necessary to forge my own path at Augustana and beyond. These individuals have challenged me to think beyond what I have been previously taught and pushed me to achieve my greatest potential. Their continued support, guidance and patience is unparalleled, and I cannot find words to adequately express my gratitude.
In addition, I would not be where I am today without my friends. I am blessed to have met and befriended some extraordinary people here at Augustana. Through leading by example, they continue to help me learn what it means to truly embody humility, kindness, passion, service and activism, and they have been instrumental in me growing to fully embrace myself as the person I am.
Lastly, I owe much of my success to my mom. Her unconditional love, support, empowerment and encouragement have carried me in times of joy and difficulty, and her strength and integrity inspire me to become the best version of myself. She remains one of my greatest teachers, and I am grateful for the values she instilled in me.
Peak experience?
If I had to choose, I would say each of the spring break field trips taken with the geology department were "peak experiences." From hiking across lava fields at the foot of active volcanoes in Hawaii to backpacking through stratigraphic units representing millions of years of history in the vast Grand Canyon, these trips provided a wonderful opportunity to learn by doing and gain familiarity with important concepts by applying my knowledge and skills firsthand in the field.
What surprised you?
During the last four years, I have come to realize that I am capable of more than I ever thought. With the help of wonderful faculty mentors and friends, I have been challenged to recognize my potential and pushed to think and do far beyond what I imagined possible.
How did you use Augie Choice?
I used my Augie Choice to study in China, Japan, Hong Kong and Taiwan as part of East Asia Term.
What will you miss the most?
I will miss the community of students, faculty and staff of which I have grown to be an integral part. The genuine sense of connection within my academic departments and across campus is overwhelmingly positive and meaningful.
Advice for the Class of 2023?
While you will not be able to do everything during your time in college, you will have formative experiences here that will help shape the rest of your life. Capitalize on these opportunities and make them your own! This is a unique time where you have the ability to prioritize learning and develop meaningful relationships with your professors, peers and yourself. Enjoy it!
"Sierra has deep interests in the earth sciences, particularly aqueous environmental geochemistry. She excels at scientific studies that require her to collect data in the field (often in adverse conditions), analyze samples in the lab and interpret the results. She summarizes the results of her work in the context of the problem, and she prepares well-written, detailed reports of her work. She is also a gifted public speaker, able to explain complex concepts in terms that nearly anyone can understand well. Sierra has accomplished a great deal in her four years at Augustana!"