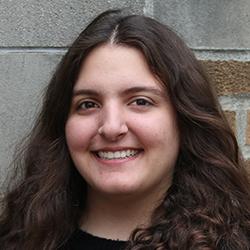 More Than I Imagined
Seniors reflect on accomplishments and look ahead
Samira Radi
Graduation year: 2019
Hometown: Barranquilla, Colombia
Major: Biology (pre-veterinary medicine)
Minors: Biochemistry, psychology
Activities: Búhos Club (ESL), Equestrian Team, Habitat for Humanity, Psi Chi (psychology)
Internships: Veterinary assistant with Safari4u in South Africa; liturgy coordinator with Special People Encounter with Christ (SPEC) in Moline, Ill.; instructor at New Kingdom Trailriders in Sherrard, Ill.; veterinary assistant at River View Veterinary Service in Port Byron, Ill.; research assistant for Dr. Tim Muir at Augustana
Post-grad plans: Work as a veterinary assistant for a year and apply to veterinary school
Why Augustana?
The first time I visited I really liked the tight-knit environment and small class sizes. In addition, Augustana ensured that it was possible for me to study in the United States with the outstanding financial support.
Are you where you thought you'd be when you first came to campus?
Not at all. I came to Augie thinking I wanted to graduate early and start vet school right away. I did not want to wait another second to become a veterinarian. My first-year advisor kept reminding me not to rush things, and to take advantage of my four years in college because vet school was not going anywhere. Looking back, I am glad I listened.
By working closely with my advisors, I was able to intern in South Africa, local vet clinics and participate in a study away in Holden Village. I became president of two clubs, traveled to South Africa and experienced another side of the veterinary field, began on-campus research with one of the most amazing mentors, spent half a term in Holden Village learning about nature, history and spirituality, and became a therapeutic riding Instructor with New Kingdom Trailriders.
Who helped you get to where you are now?
The list of people who have helped me throughout these four years is quite the list. The professors not only challenged me, but also encouraged and motivated me to grow and take advantage of opportunities. Some of them are Dr. Tim Muir, Dr. Jason Mahn, Dr. Greg Domski, Dr. Daniel Corts, Dr. Kimberly Murphy, Dr. Bob Tallitsch, Dr. Jane Simonsen and Dr. Austin Williamson. They went above and beyond to provide me with guidance, support and opportunities.
Eric and Rikka Stewart, who gave me a second home in the Quad Cities. My horseback riding coach, Julie Mann, who is always there for me even when I am not on a horse. To all the staff and volunteers at New Kingdom Trailriders—Jodie, Louise, Monika and Leah—for sharing your knowledge with me and for helping me fulfill a lifelong dream.
Dr. Barb Kuhns, I do not know what I would have done without your mentorship, friendship, endless words of wisdom and unforgettable road trips.
To my supervisors at SPEC, Linda and Don, who never ceased to inspire me. Liz Nino, you have never doubted me, and I am very grateful for that. Anytime I would have doubts, a simple conversation with you would give me the reassurance I needed to move forward.
My friends, who are the most amazing listeners one could ask for, you know who you are. And last but not least, my family. Without their endless love and support, I would not be where I am now.
Peak experience?
If I had to pick one, it would be the six weeks I spent in Holden Village. There, I was able to discover parts of myself and experience community on a another level. Being able to live in the mountains made me realize that being a veterinarian is not just caring for sick animals, but also about preserving the environment they live in. Holden Village gave me lifelong friendships and incredible mentors that I will be forever grateful for.
What surprised you?
I learned that I really enjoy teaching. All of my friends and professors can tell you how shy I can be, but when I am teaching, my introverted personality seems to vanish. It all started with Búhos Club when I began teaching English to individuals from the Floreciente neighborhood. The ability to relate to my students, given that English is my second language as well, gave me the opportunity to use what I already know, and I learned to then share it with them.
In addition, New Kingdom Trailriders helped me get my certification as a therapeutic riding instructor. I have been riding horses my whole life, but I never thought I would get the chance to share my knowledge with others and teach about one of the activities I love the most.
How did you use Augie Choice?
Augie Choice helped cover my travel and program expenses for my internship in South Africa.
What will you miss the most?
Definitely the people. So many different individuals from all around the Quad Cities have impacted my life in many ways, and I will miss seeing them every week. Even though I won't be seeing them as much, their friendship will always be a part of me.
Advice for the Class of 2023?
The best opportunities are found behind the doors that you least expect. Open them and explore! Be inquisitive because it is through this curiosity that you will find your passions and begin your lifelong adventures. Ask questions, be bold. The worst answer you can get is no, and that's not a bad thing. Make mistakes; college is about learning and growing. Most importantly, listen; there is always someone right behind you to help you and guide you along the way.
"I got to know Samira well during the winter study-away program in Holden Village, a remote community in the North Cascade Mountains. It was there that I really saw her dedication to science. Samira is from a coastal city in Colombia and had never seen snow until her first winter at Augustana—three years later, she was snow-shoeing up mountains on top of 10-ft. snowdrifts all in the pursuit of scientific data. She is one of the most courageous students I have ever taught, and one of the kindest people I know."

­