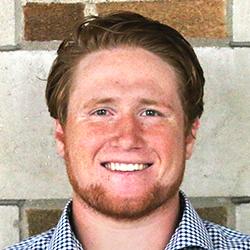 More Than I Imagined
Seniors reflect on accomplishments and look ahead
Ryan Grannemann
Graduation year: 2019
Hometown: McHenry, Ill.
Majors: Mathematics for secondary education, middle grades education-mathematics
Activities: Varsity baseball
Internship: Student teaching at Moline (Ill.) High School
Post-grad plans: Teach and coach at Cary Grove (Ill.) High School
Why Augustana?
I really liked the small classes, and I was recruited for baseball.
Are you where you thought you'd be when you first came to campus?
Yes I am. I have always wanted to become a teacher, and this school has prepared me for the world of teaching. Due to the support of the staff, I was offered a teaching job at four out of the five schools I interviewed with.
Who helped you get to where you are now?
My mom has always been one of my biggest supporters. Also, the emotional support of my roommates allowed me to excel here at Augustana. I would like to give a special thanks to Megan Quinn (pottery professor), Tom Bengtson (math professor), Mike Schroeder (education professor), Mike Egan (education professor and advisor).
Peak experience?
In this season of baseball we were able to have two walk-off wins in the bottom of the ninth against Carthage. I have never been a part of such an intense and positive moment on the baseball field in my entire life. In both games on the same day, we were down several runs going into our last three outs. We were able to come back in both games to score 3-4 runs in the last inning to win the game.
How did you use Augie Choice?
I was able to use it during my student-teaching experience.
What will you miss the most?
I will miss not living with my best friends.
Advice for the Class of 2023?
College is not all about how well you can do in your classes. I have learned so much more about myself and who I want to be by surrounding myself with people I truly enjoy. In many high schools, you can fall into the classic cliques. When you reach college, you get a fresh start, and you can find people who truly care about you. I will always be grateful for all the lifelong relationships I have made here at Augie.
"All of us in the Education Department are proud what Ryan has accomplished in his years at Augie. He has every attribute that a great teacher has to have to be successful—he is perceptive, dedicated, patient and gifted with a terrific sense of humor. Above all, he recognizes what is truly important. In his final reflection this spring, he wrote of his future students that "you must inspire them to find something that they truly care about." And inspire them he will. Good luck, Ryan!"