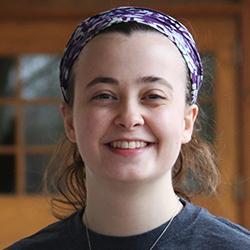 More Than I Imagined
Seniors reflect on accomplishments and look ahead
Rebecca Hobson
Graduation year: 2019
Hometown: Sussex, Wis.
Major: Music performance (oboe)
Activities: Augustana Symphonic Band, Augustana Symphony Orchestra, Kali Yuga, Augustana Chamber Orchestra, InterVarsity Christian Fellowship, Sigma Alpha Iota music fraternity
Post-grad plans: Take a gap year before graduate school for music.
Why Augustana?
My high school band director is an alum of Augustana, and I knew three people who graduated from my high school and went to Augie. I was very interested in music and science throughout high school, and I wanted to attend a school that would let me explore both interests. Augustana was the perfect place for me to study what I wanted, see familiar faces and meet many new people.
Are you where you thought you'd be when you first came to campus?
Not at all! I was very certain when I arrived at Augustana, and for most of my time here that I was going to pursue occupational therapy. While I still have a love for science and could see it continuing to be important in my life and career, my time at Augustana and the amazing faculty have shown me how much I love music and that I want to make it my career.
Augustana has shown me that it is okay and even should be celebrated if you have multiple fields of interest. Studying different disciplines allows you to think critically in a variety of ways, and Augustana does a great job of teaching this. I am so glad that Augustana allowed me to study music and take many courses in science and psychology along the way. I'm leaving in a different way than I originally thought I would, and I would not change that or any part of my journey here if I could.
Who helped you get to where you are now?
The music faculty played a huge role! Dr. and Mrs. Lambrecht, my band director and oboe teacher, have been some of my biggest supporters from the start. I met them during a visit before my first year, and they were so welcoming. I have learned not only important things about music from them, but also good life lessons.
Dr. Crouch, my voice teacher and past Aural Skills professor, has also been a very influential faculty member for me. Her office door was always open from the beginning of my first year to allow me to ask questions about homework, ask for advice or simply talk to. I originally did not plan on taking voice lessons at Augustana, but after taking my first term of Aural Skills with her, I knew I could use the extra practice and that she would be a great teacher.
The person who had the biggest impact on where I am now is my mom, who passed away halfway through winter term of my first year. I shared my love of music and science with her for many years; she was the one who first pointed out to me how perfect Augustana would be for me since I could study both here.
I had considered not coming to Augustana when her ALS continued to progress during the summer before my first year, but she convinced me that I needed to come. She was right because not only did I get the chance to study exactly what I wanted, but I was welcomed onto a campus with so many supportive and caring faculty and given the opportunity to make lifelong friendships.
Peak experience?
The tours with the Augustana Symphonic Band. I went with the band twice through the Midwest, to Spain and to southern California. Every tour is different and offers new experiences. The farther we went from home, the more diverse the culture that we experienced. The closer we were to home, the more we learned about how music impacted our lives at crucial times. I remember each tour not just by the places I went to, but by the way I saw music brought into my life and the lives of others.
What surprised you?
I am more willing to put myself out in front of people than I originally thought. Before I came here, I never gave a recital or did much in the way of leadership. I have now put on three of my own recitals and have served in leadership positions in Sigma Alpha Iota and InterVarsity Christian Fellowship.
How did you use Augie Choice?
Observations for occupational therapy during the summer. I mostly observed hand therapy, which applies directly to instrumental musicians who spend all day using their hands to play their instruments. Even though I don't plan on becoming an occupational therapist, I have learned so much about treatment and prevention of common hand and wrist injuries, which I know I will use in my own career and share with future students. 
What will you miss the most?
All of the people involved in music. Not only the faculty, but also the people I had classes with, performed with in ensembles and my Sigma Alpha Iota sisters.
Advice for the Class of 2023?
Be open to changes to your plans. At a liberal arts college like Augustana, you will be exposed to many new things that might pique your interest and might even become a new path for you. Take this time to explore new fields and how these new fields may apply to you!
"Rebecca has embraced every opportunity at Augustana for personal and professional growth. It has been a joy to watch as she developed her teaching and leadership skills through the many courses and activities on campus."