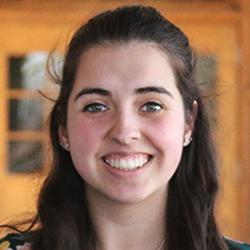 More Than I Imagined
Seniors reflect on accomplishments and look ahead
Rachel Hart
Graduation year: 2019
Hometown: Aurora, Ill.
Major: Spanish education
Minor: Latin American studies
Activities: Zeta Phi Kappa sorority, Polka Dot Project
Internships: I student-taught at Pleasant Valley High School in Bettendorf, Iowa.
Post-grad plans: I will be teaching Spanish at Pleasant Valley High School.
Why Augustana?
Once I stepped on campus for my first visit, I immediately felt at home. I loved the small class sizes, the rigor of the courses, the genuine care professors had for their students, the sense of community throughout the college, the wonderful opportunities that are provided for students and of course the beauty of our campus. Looking back, these are still aspects of Augie that I absolutely love; if I had to pick a school again, I would choose Augustana in a heartbeat!
Are you where you thought you'd be when you first came to campus?
In some regards, yes. I came to campus knowing that I wanted to be a Spanish teacher, and my experiences and the wonderful support at Augustana have helped me achieve this goal. However, I never imagined how much I would grow as a result of my experiences at Augustana. I had the opportunity to study abroad twice, pick up a minor, get involved in awesome organizations, explore the Quad Cities (especially the coffee shops) and be surrounded by some of the very best people.
Who helped you get to where you are now?
There are so many people I would love to thank for helping me get to where I am now. I am so grateful for my family, especially my parents, for always encouraging me to follow my dreams and supporting me along the way. Likewise, I am grateful for the wonderful, lifelong friends who have truly made Augustana my home away from home; I could not imagine my college experience without them.
I am so thankful for the wonderful professors I have had. A very special shoutout to the Augustana Education Department and the Spanish Department. Both have tremendously supported my growth as a student, teacher and as an individual. These departments have encouraged and guided me throughout the past four years, and I am incredibly blessed to have learned from them.
I am also very grateful for my co-op teachers throughout the years who opened their classrooms to me, providing me with abundant learning opportunities and support during my student teaching and clinical experiences.
Peak experience?
I am very thankful for my study abroad opportunities. I studied twice in Spain. The first time, I went to northern Spain to hike the Camino de Santiago for two weeks. It was an incredible experience that provided me the chance to reflect, live simply and enjoy nature. Hiking the Camino is one of my biggest accomplishments; I would love to return in the future to hike the Camino from France.
The second time I studied abroad, I went to Sevilla, a city in southern Spain, for 10 weeks. There, I lived with a host family, explored the city with my friends and grew in my knowledge of the Spanish language and culture.
Another peak experience for me was student teaching. Each day provided a new opportunity to learn, and as a result of this experience, I feel like I have grown so much as an educator. I am really looking forward to beginning my career at the high school where I student-taught this past winter, and to continue learning!
What surprised you?
I learned so much in my time here at Augie, and due to my experiences, I feel like I have grown so much as an individual. I am grateful for the opportunities I have had, to be surrounded by people who encourage and support my goals, and to step out of my comfort zone.
How did you use Augie Choice?
I used my Augie Choice to hike the Camino de Santiago in northern Spain.
What will you miss the most?
I will definitely miss the people. My friends have truly made Augie home away from home, and I couldn't imagine doing college without them. Whether we are grabbing dinner, doing homework, grocery shopping, etc., they never cease to put a smile on my face!
Advice for the Class of 2023?
Take advantage of your time at Augustana—it goes by so fast! Try new things, be around people who make you happy, follow your dreams, don't be afraid to ask questions, learn lots, and have fun. Augie is truly a wonderful place!
"Rachel is a bright, responsible and hard-working student with a passion for the language and cultures of Spanish-speaking people. In her trimester in Sevilla, Spain, Rachel developed her language skills and became a more open-minded, mature and reflective individual. She is an excellent team player who thrives on working with others, and showing a positive attitude, commitment and care. Having observed her teach on multiple occasions, I know she will do a fabulous job as a Spanish teacher and have a long-term impact on many students with her dedication, use of up-to-date approaches and delightful personality."