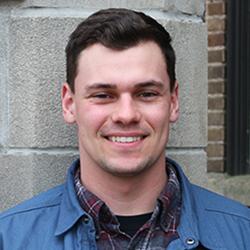 More Than I Imagined
Seniors reflect on accomplishments and look ahead
Patrick Crompton
Graduation year: 2019
Hometown: Hood River, Ore.
Major: Engineering physics
Activities: Varsity track & field (Academic All-Conference), SGA senior senator, Augustana Physics and Engineering Society, Phi Beta Kappa
Internship: Facility engineering intern at Siltronic Corp.
Post-grad plans: Currently looking for a job as a mechanical engineer with plans to eventually obtain a master's degree
Why Augustana?
When looking at colleges, I knew that I wanted to go somewhere that wasn't super close to my house. When I found Augustana and reached out to coaches here, they were very responsive and friendly. After I had been accepted, Augustana flew me out to tour the campus and meet the coaches and from that point, I knew I could see myself thriving at Augie.
Are you where you thought you'd be when you first came to campus?
I was terrified when I first got to campus my freshman year. Coming from rural Oregon to the Midwest not knowing a single person coming in was like being thrown to the wolves. Now at the end of my senior year, I look back to that and see how far I've come. Is it where I thought I would be? Not really, but I had no idea where Augie could take me. Am I satisfied with where I am? Absolutely.
Who helped you get to where you are now?
My most influential peers include my freshman-year roommate, Adam Greene. He and I became great friends; he definitely helped me adjust to the Midwest culture. Adam Gronewold, Evan Murphy and I became great friends during the middle of my freshman year in the second term of physics, and over the next few years, we helped each other through the upper-level physics classes and became lifelong friends.
While I didn't join any Greek groups, the track team has taken that spot in my social life. The track team has become a big family to me.
One thing about all my professors at Augie is they care about the students. I have never been turned away when asking for help. My main two faculty influencers have been Dr. Olsen and Dr. Dyer. Ols' was a professor and my track coach, and right away freshman year, he took me out to lunch just to talk, to see how I was settling in and if there was anything that he could help with. As a homesick freshman, this helped more than he realized, knowing I wasn't stranded alone on the desolate island that was the Midwest.
Dr. Dyer, my academic advisor, has helped me with scheduling, physics, navigating the German train system, and he has counseled me on the struggles of finding a job.
Peak experience?
I was fortunate to go on two overseas programs while at Augie. I went on the Alps LC and toured Germany, Austria and Switzerland for three weeks over the summer, and then I spent the fall term of my senior year in Siena, Italy. While in Italy, I had the pleasure of witnessing the Palio di Siena—the oldest horse race in the world. It is a three-lap bareback horse race around the city center, and it was the most indescribable experience of my life. The passion, emotion and action were unlike anything I have ever experienced. 
What surprised you?
One thing I learned about myself is that while it's never good to be stressed, stress can be a powerful motivator, and I work well under pressure.
How did you use Augie Choice?
I used my Augie Choice to go on the Alps LC and spend three weeks traveling through Germany, Austria and Switzerland.
What will you miss the most?
It's a cliché response, but the people. I have met some of the most amazing people from all walks of life here at Augustana. All the memories that I have made with them are what I will miss the most.
Advice for the Class of 2023?
Don't wait. Dive in to anything and everything because you won't regret it. Your four years at Augie will be over before you know it, so don't waste time by "waiting for the right moment." Just Send It.
"Patrick has excelled in his academics and his athletic endeavors. He repeatedly took on greater challenges and adventures, serving as a senator in student government, studying abroad twice and working on an engineering design team to develop a new product for a company in our community. Patrick also does not demand the spotlight, even though he often deserves it. He has been a pleasure to teach and get to know individually, and I look forward to seeing his accomplishments going forward."