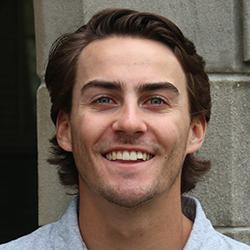 More Than I Imagined
Seniors reflect on accomplishments and look ahead
Mike Powers
Graduation year: 2019
Hometown: Westmont, Ill.
Majors: Accounting, business administration-management
Activities: Varsity baseball (Academic All-American)
Internships: I interned at Arthur J. Gallagher, working in wholesale insurance, and at PwC, working in risk assurance.
Post-grad plans: I plan to attend Ohio State University's graduate school of accounting to receive my master's in accounting and then acquire my CPA before working at PwC as a risk assurance associate in the fall of 2020.
Why Augustana?
I chose Augustana because of its reputation as having an impressive baseball program and its prestigious academic standing
Are you where you thought you'd be when you first came to campus?
Not exactly. I still remember touring the school as a baseball recruit while having no idea what my major would be or how my baseball career would develop. I still remember standing in front of the poster in the fourth-floor hallway of the CSL in amazement at how many Academic All-Americans Augustana had produced, but never thought that I had the potential to be one of them.
Who helped you get to where you are now?
There are too many people to name. Academically, Dr. Delaney has been at the forefront of helping me achieve my goals both in attending graduate school and getting a job before my senior year had even begun, and I can't thank him enough. The entire business and accounting department, including Professor Marmé and Dr. Tapis, also helped greatly in my pursuit of attending graduate school.
As far as athletics go, I don't think I'd be where I am today without the help of Coach Wallace, Coach Hauer and the rest of the Augustana baseball coaching staff. They helped mold me into a player I never knew I could become.
Peak experience?
My peak experience was achieving Academic All-American honors. This was a peak experience for me because of the way in which I struggled in baseball both my freshman and sophomore seasons. I was highly motivated to prove myself as both an outstanding student and athlete.
What surprised you?
I learned that in order to be prepared academically and athletically, I had to work extremely hard behind the scenes while no one was around. Whether it was a big test or a big game, the result was always determined by the amount of hard work and rigorous preparation I put both my mind and body through long before any contest or exam.
What will you miss the most?
I will miss my teammates on the Augustana baseball team the most, from all four years. The friendships I made and the battles I've fought with each and every guy in that locker room are memories I will never forget, and I hope they know how much I respect and appreciate every one of them. This baseball program was so special to me in so many ways and shaped the person I have become.
Advice for the Class of 2023?
Believe you can do it. Whatever "it" is, find your passion and work hard at it. You never know what your mind and body are capable of until you spend time perfecting your craft and believing you're capable of something great.
"Mike Powers is an outstanding student-athlete and class act. He has been awarded the Senior Accounting Student of Distinction honor after being named Academic All-American his junior year. In a few months, he will be off to graduate school at The Ohio State University to pursue a Masters of Accounting, and then to a prosperous career in public accounting with PricewaterhouseCoopers in Chicago. Mike has been a terrific leader on the field and in the classroom. It has been a real pleasure working with Mike, and I wish him the best."