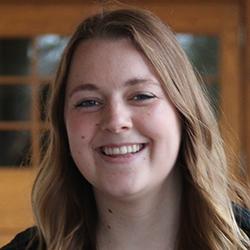 More Than I Imagined
Seniors reflect on accomplishments and look ahead
Maddie Witt
Graduation year: 2019
Hometown: Frankfort, Ill.
Major: Communication studies 
Minor: Theatre arts, nonprofit leadership development
Activities: Camp Kesem, Augustana Choir, Office of Student Life, Chi Alpha Pi sorority
Internships: Winter 2018–Centre for Popular Education and Human Rights, Ghana in Accra, Ghana; fall/winter 2019–NormaLeah Ovarian Cancer Initiative in Rock Island, Ill.
Post-grad plans: Attend Illinois State University to pursue a master's in health communication
Why Augustana?
When looking at schools my senior year of high school, I knew that I wanted to be surrounded by people who were constantly striving to be the best version of themselves, not only academically, but in life as well. After stepping foot on Augustana's campus for the first time, I knew it was where I wanted to end up. The vibrant energy and welcoming environment that I encountered was like no other place that I visited during my college search. 
Are you where you thought you'd be when you first came to campus?
I would have never thought I would be where I am now. Coming in, I was undecided on everything, from what I wanted to do academically and what I wanted to be involved in for extracurriculars. Now, four years later, I can say that I've found a home in multiple places on campus and have a clear idea on my path after I graduate. 
Who helped you get to where you are now?
There are way too many people to list! My family has been my biggest support system throughout my time at Augustana, and I would be lost without them.
Academically, the faculty within the communication studies department have been there to help me navigate my way through classes and life while always keeping my best interest in mind. I'll never forget walking into my first class at Augustana and being greeted by Professor Hare with a warm smile and an enthusiasm for the subject she was teaching. It's people like her that made me feel like I belonged within the department throughout my four years. Without the constant advice and encouragement from the communication studies faculty, specifically my advisors Dr. Varallo and Dr. Snowball, I would not have had the courage to pursue graduate school after Augie.
Two faculty members on campus who have had a large impact on my experience are Dr. Hurty and Ken Brill. They've helped me foster my passions outside of the classroom and given me the chance to grow in both music and leadership.
All of the incredible people involved in the organizations I've been a member of have given me places on campus to call my home. But most importantly, the friends I have made here have helped to make sure that my four years were full of so much encouragement, love and lots of laughter!
Peak experience?
I feel like all four years here have been a peak experience, but if I had to choose one, it would be being one of the directors of Camp Kesem during my senior year. Being able to lead and manage a group of my peers in creating the most special week of camp for more than 140 kids affected by a parent's cancer has been the highlight of my time here. I'm forever grateful for not only my fellow counselors who have become a second family to me, but also the campers we support who will forever be some of my biggest role models. 
What surprised you?
I learned that I am way more capable than I ever thought I was. I never imagined that in four years, I would travel abroad, make beautiful music with the Augustana Choir, intern at nonprofit organizations across the globe and lead multiple organizations across campus. All I can say is I've used my time at Augustana to the fullest and have realized my worth as a student, leader, coworker and friend. 
How did you use Augie Choice?
I used my Augie Choice to study abroad in West Africa winter term of my junior year. This experience gave me an opportunity to fully immerse myself in a different culture while learning more about myself. The adventures I had, along with the people I spent them with, made a large impact on how I view the world and how I interact with everyone around me. I am so grateful for the opportunity to have studied and interned abroad, and being at Augie made that possible. 
What will you miss the most?
Honestly, I'll miss the Brew the most. And not just the space itself, but the people I get to spend my time with in it. I'll miss automatically seeing someone as I walk up the stairs greet me with a smile and ask me how my day is going. I'll miss sitting at a table for hours with my favorite people, only tracking time by counting how many times we laugh out loud. The people truly make Augustana what it is, and I think I'll miss them the most. 
Advice for the Class of 2023?
Remember that you can do anything, but not everything. Prioritize things that spark joy within you and never let them go. Focus on the people and organizations that matter the most to you, and you will find your place on campus to call home. But most importantly, as you grow into who you are, never forget where you came from.
"In the past four years, Maddie has grown to be an outstanding communicator who is striving to change the world for the better. In her Senior Inquiry, she spoke with such passion and conviction that it was easy to see that not only did this experience touch her deeply, but that her involvement with NormaLeah shaped her future. Next year, she is off to Illinois State University to pursue an M.A. in health communication. I look forward to seeing her continued impact on the world around her."