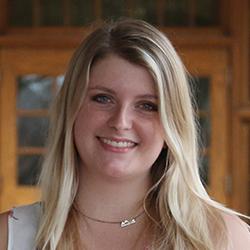 More Than I Imagined
Seniors reflect on accomplishments and look ahead
Lauren Judge
Graduation year: 2019
Hometown: North Liberty, Iowa
Major: Geology
Minor: Biology
Activities: Udden Geology Club, Sigma Gamma Epsilon earth sciences honor society, Augustana Concert Band, Alpha Sigma Xi fraternity (Little Sister)
Internship: I intern as a fossil preparator at the Burpee Museum of Natural History in Rockford, Ill.
Post-grad plans: Attend the University of Florida to pursue my master's in the geosciences
Why Augustana?
When I visited campus, I immediately felt like I belonged there. The geology department is very close and supportive of each other, and you get to know your professors very well. The geology department also offers incredible opportunities for its students to travel and learn geology in the field.
Are you where you thought you'd be when you first came to campus?
I'm not! I always thought I would go into vertebrate paleontology, but I've since expanded my interests to geobiology, and my Senior Inquiry is working with invertebrate biodiversity.
Who helped you get to where you are now?
Dr. [Mike] Wolf was the first professor I had at Augustana during the Geology 105 trip before my first year. He pushes his students to think for themselves and develop hypotheses on their own. He has been incredibly supportive in all aspects of my life, and I credit a lot of my success at Augustana to his constant support and belief that I can accomplish my goals — whether that be completing my Senior Inquiry or backpacking the Grand Canyon.
Dr. [Kelsey] Arkle has taught me so much in the time that I've known her. It is because of Dr. Arkle that I was able to pursue my senior research project in the Caribbean and learn about fieldwork. She has been an amazing advisor and has shown me how to be a strong, independent woman in the geosciences. 
Peak experience?
One of my many "peak" experiences at Augustana was backpacking the Grand Canyon with the geology department. It's a feat that I never imagined I would be able to accomplish, but I spent a week in the canyon learning the geology and hiking to various campsites. It was an incredible experience and gave me the confidence to tackle many challenges my senior year!
What surprised you?
I learned that I am more than what others say about me. Four years at Augustana changed me a lot, and I think the best change was learning that people are going to say a lot about you, but the only opinion that matters is your own.
How did you use Augie Choice?
I used my Augie Choice to study abroad in East Asia for 11 weeks. It was an incredible experience to be able to visit multiple cultures and learn about their politics, traditional medicinal practices and literature, and to study very different geology from what we have in the United States.
What will you miss the most?
I will miss the friends I have made on campus. The geology department and the men of Alpha Sigma Xi became little families away from home, and I will definitely miss having them just a few minutes away.
Advice for the Class of 2023?
Take time for yourself. You don't always have to be doing what all of your friends are doing. Don't be a "yes-person." It's okay to say no. If you would rather be sitting in your room watching a movie by yourself, then do that! FOMO is overrated anyway.
"During her time at Augie, Lauren has immersed herself in geology, both in the classroom and while traveling the world. She is a leader in the department and an active member of the campus community. Her ambitious Senior Inquiry project in the emerging field of ancient DNA required her to attain SCUBA certification, perform international fieldwork, adapt laboratory protocols and learn how to code. I am continually impressed by her curiosity and drive, and I am excited to hear about her future successes in graduate school and beyond!"