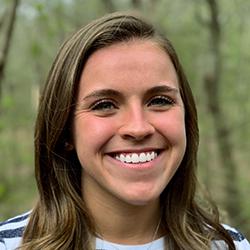 More Than I Imagined
Seniors reflect on accomplishments and look ahead
Lauren Hogan
Graduation year: 2019
Hometown:
 Rock Island, Ill.
Major: Biology (pre-dentistry)
Minor:
 Studio art
Activities: 
Dr. Donna Bergen and Dr. Thomas Madden Whistler Research Fellow for Art History, ACHOO (Augustana Community Health Outreach Organization),
 JETS (Joining Education Through Service), 
peer mentor, peer tutor for human anatomy

Internship:
 Project NEST through Junior Board of Rock Island
Post-grad plans:
 Attend Marquette University School of Dentistry in Milwaukee, Wis.
Why Augustana?
Augie is a stone's throw away from where I grew up and went to high school, so I kind of brushed it off during the college search. After visiting and talking to current students, however, I became aware of the strength of the science program and the exceptionally high dental school acceptance rate. I knew I would be setting myself up for success by choosing Augie despite a big part of me wanting to "go away" to college. Additionally, the financial aid offered compared to other schools I was looking at was unmatchable. Fast forward four years, and it was one of the best decisions I have ever made.
Are you where you thought you'd be when you first came to campus?

Absolutely not. I went from a doubtful freshman considering transferring schools to a confident senior sad to leave behind this place that has become home. My main goals were to receive a quality education and ultimately be accepted to dental school—both of which happened.
However, so many other unexpected things occurred along the way that have made me who I am today. I gained the best lifelong friends, discovered my interest for studio art, studied abroad in Nicaragua, and was taught by the most invested and talented professors. Looking back, I cannot imagine how different my life would be had I not decided to attend and stay at Augie.
Who helped you get to where you are now?
Augie is full of people who make it their priority to help you succeed. While this is not an exhaustive list by any means, I would not have gotten to where I am today without these people....
My family – thank you for being the best support system and continuously encouraging me.

Bob – thank you for always lending an open ear and reminding me of my potential when I lost sight of it.
Dr. Koontz – thank you for being the most knowledgeable advisor and being with me every step of the way.
José – thank you for pushing me out of my comfort zone and making me the student I am today.

Dr. Goebel – thank you for introducing me to art history and always supporting me.

Dr. Gehler – thank you for instilling in me an eagerness to ask questions and be curious.

Stephanie – thank you for encouraging me to never stop learning.

The art department – thank you for cultivating another interest of mine I did not know I had.

My friends – thank you for making these the best four years.
Peak experience?
It is hard to pick just one, but all of the little things that happened over the past four years led to my peak experience—being accepted to my dream dental school in December of my senior year. It was on this day that everything made sense; the early mornings, stressful nights and every lecture in between was well worth it. I entered Augie with this being the ultimate goal, and it is rewarding to know I will be leaving having accomplished it.
What surprised you?

What surprised me the most was realizing how much I am capable of. Early on, specifically during general and organic chemistry, I often thought this idea of going to dental school was far-fetched. I had a Plan B and Plan C since I had convinced myself at times that Plan A was unattainable. My professors and advisor all saw the potential in me and constantly pushed me to reach it; they did not let me settle for what was easy and comfortable. They instilled in me the confidence to set realistic yet challenging goals and reminded me that I have the ability to achieve them.
How did you use Augie Choice?

I used my Augie Choice to help fund my study abroad trip to Nicaragua. We set up clinics across the country with the help of professionals to offer medical and dental services to the citizens. This trip strengthened existing friendships, created new ones and opened my eyes to international health care.
What will you miss the most?
The people without a doubt. I cannot imagine having attended a different school and never crossing paths with these acquaintances who turned into lifelong friends. The cliché "you meet your best friends in college" is absolutely true at a place like Augie.
In addition to peers, some of the professors I met along the way taught me more than I will ever learn from any textbook. Everyone here—from the librarians and CSL staff to the maintenance workers and admissions counselors—is what makes Augie so special.
Advice for the Class of 2023?

Don't take the small moments for granted. Some days will feel mundane and monotonous, but looking back I realized that sitting in Hanson with friends between classes and late nights studying together in Olin have provided me with endless memories. Your next four years are going to be challenging, but they are guaranteed to be accompanied by reward, newfound knowledge and lifelong relationships—don't let it slip away because it flies by.
"Lauren wanted to be a dentist from an early age (well before her older sister who is in dental school and is also an Augie alumna!). She set her sights on making the most of her Augustana experience to make herself a competitive applicant. She took advantage of everything we have to offer from various biology and art classes to study away and internships. She set her goals and accomplished them...all with a great sense of herself and a sense of humor that will serve her well as she enters dental school in the fall."