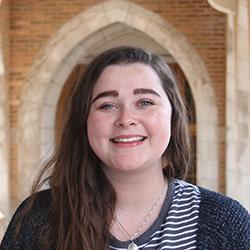 More Than I Imagined
Seniors reflect on accomplishments and look ahead
Lauren Clapp
Graduation year: 2019
Hometown: Iowa City, Iowa
Majors: Art history, communication studies
Minor: Ethics
Activities: The Campus Kitchen at Augustana College, Heywire Improv, Jenny Lind Vocal Ensemble, Zeta Phi Kappa (honorary member), Centre for Whistler Criticism
Internships: (1) Augustana Teaching Museum of Art and (2) Collections and Exhibitions Department at the Figge Art Museum
Post-grad plans: I will begin a service year with AmeriCorps NCCC in July and spend 10 months serving in the southern region of the United States. After my service year, I plan on attending graduate school for a master's in communication studies or getting a job with a non-profit organization.
Why Augustana?
I originally told my mom that I was absolutely not attending Augustana because my older brother went here, and I did not want to attend the same school as him. But after visiting about 13 other colleges (and lots of encouragement from my mom), I reconsidered. When I visited Augie, I could actually imagine myself attending classes, studying in the Quad and hanging out with other students here; something I wasn't able to do at any other school I visited. In the end, Augustana just felt like home, and I am sure my mom was happy because that meant a few more years walking the Slough with one of her kids!
Are you where you thought you'd be when you first came to campus?
Definitely not! I entered Augie undecided with no idea of what I wanted to do, socially or academically. The wonderful Keri Bass in CORE helped me reach out to professors in fields I was interested in to see what exciting opportunities they had in their departments and what their students had done after graduation. I kind of stumbled into my majors, minor and campus organizations, but I am so happy that I did!  
Who helped you get to where you are now?
There are too many people to list! My self-proclaimed #1 fan, my mom, has definitely been my biggest supporter throughout my time at Augie! On campus, Keri Bass in CORE was and still is so helpful and supportive in helping me realize what I wanted to major in, how I could be a leader in campus organizations, and the opportunities that awaited me after graduation. Without her I would still be lost!
My academic advisors have been so important in helping me. Dr. Goebel, Dr. Morse and Dr. Snowball—along with many other professors at Augustana—have always had my best interest in mind when guiding me through classes, my majors and my minor. All the members of campus groups that I have been fortunate enough to be involved in have helped shape my college career. Most importantly, the friends that I have made while at Augie and the rest of my family back home have ensured that my college experience was full of love, support and lots of fun! Thank you all!
Peak experience?
I wish that I could just count all four of my years at Augie as my peak experience because there really are too many great experiences to choose from. But if I had to pick one experience, I would probably choose when our entire group studying in London went to the National Portrait Gallery for High Tea. The tea and food was amazing, and I had some great friends to share it with!
What surprised you?
I realized that I am capable of so much more than I ever thought I would be. I never thought I would be doing research abroad, speaking at local and national conferences, designing educational programs for a non-profit organization on campus or be graduating with two majors and a minor. But being at Augustana has showed me that I can do all of those things and so much more. I realized that I have a lot to offer.
How did you use Augie Choice?
I used my Augie Choice to study abroad in London during Fall Term my junior year. It was a wonderful experience that I am forever grateful for. Studying abroad in London also led me to the opportunity to complete research in London and Glasgow during the summer before my senior year.
What will you miss the most?
I will definitely miss the people the most! I have made the most amazing friends here. Almost all of the girls that I lived with on the same floor in Andreen my first year here are still people I consider to be close friends. The faculty and staff are also amazing! They are extremely supportive of academic interests, but they also care about what I do and who I am outside of the classroom. The support system that I have found at Augie is unlike anything I could possibly have imagined, and I will miss being so close to all these amazing people!
Advice for the Class of 2023?
Don't wait until your senior year to try restaurants around the Quad Cities. You won't have enough time to explore them all if you wait like I did.
"Lauren's quick smile and joyful enthusiasm reflect her impressive leadership skills on campus and beyond, including the Centre for Whistler Criticism. Sharing London Term—rooftop tea followed by Parisian gardens and museums—was memorable as was mentoring subsequent archival Whistler research in London and Glasgow. She presents her scholarship this spring for the Midwest Art History Society. Lauren related to me that she discovered art history in my first-year-inquiry class. I'm delighted to now bookend this major as her Senior Inquiry advisor. Her future is bright!"