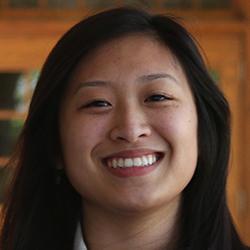 More Than I Imagined
Seniors reflect on accomplishments and look ahead
Kim Phan
Graduation year: 2019
Hometown: Loves Park, Ill.
Major: Biology (pre-medicine)
Minors: Biochemistry, Japanese
Activities: TriBeta National Biology Honor Society, Omicron Delta Kappa leadership honor society, Phi Beta Kappa, Pre-SOMA, Phi Beta Kappa
Internships: Summer Research Opportunities Program at Northwestern University, where I worked in Dr. Julia Kalow's laboratory within the Department of Chemistry, doing research related to pi-conjugated polymers; cardiovascular medicine internship with Dr. Sanjeev Puri at CVM Cardiology (Unity Point); microbiology research with Dr. Dara Wegman-Geedey at Augustana
Post-grad plans: I will be conducting research as part of the Doctoral Diversity Program at Johns Hopkins University School of Medicine.
Why Augustana?
I first heard about Augustana from a teacher in high school, who had mentioned that Augie had a great pre-med program. At that time, I was interested in attending medical school one day, so I decided to look into Augustana. The small class sizes and the gorgeous campus were the reasons I applied. The financial aid though was what really sealed the deal (pursuing higher education can be really expensive, so scholarships are important).
Are you where you thought you'd be when you first came to campus?
Not at all! Being a first-generation college student, I came to college not really sure what to expect. I was just mainly excited to have this opportunity to continue my education and meet new people. I never expected to discover a passion for research during my sophomore year. I didn't even know what research really was prior to college, so it never even crossed my mind to pursue it as a possible career.
Another thing I didn't expect was to fall in love with another language and then get to study abroad. I already had the language requirement filled prior to coming here! The summer I registered for freshman-year classes, I decided to take a language course on a whim and now here I am graduating with a Japanese minor.
Who helped you get to where you are now?
A lot of people! To start with, my advisors: Dr. Mari Nagase and Professor Brad Kennedy. Dr. Nagase is one of the main reasons I fell in love with the Japanese language. Her courses were always enjoyable, and if it wasn't for her, I would have never been able to study abroad! Professor Kennedy was always there for me, answering my questions, helping me figure out my class schedule, and just being there as someone I could talk to.
Many professors over these past four years, including but not limited to: Dr. George Boone, Dr. Dan Lee, Dr. Greg Domski, Dr. Dara Wegman-Geedey and Dr. Scott Gehler. I am so thankful to each and every one of my professors for always genuinely caring about me and encouraging me. They have pushed me to be who I am today.
And finally, above all, my family has always been there to help and motivate me to pursue my dreams. I would not be where I am today without them. I am forever grateful for all their love and support throughout these years!
Peak experience?
I've had many significant experiences, but studying abroad in Japan and immersing myself in the culture for four months was one of my favorite experiences. I met so many people from different parts of the world and made some lifelong friends. I got to travel to many different cities; climb mountains; visit shrines, temples and castles; go to festivals; and try a lot of new foods! I even attended a debate class once a week at Kobe University School of Medicine, where I met medical students from different Asian countries.
Since all my classes at Kobe City University of Foreign Studies were in Japanese, I became more confident in my speaking skills. Toward the end, it felt natural to be speaking Japanese. I felt so sad when I had to return to the U.S. that I cried at the airport. It was one of the best and most unforgettable experiences I have had in my life. It truly sparked a passion for traveling and learning about other cultures. I look forward to someday traveling all over the world. I also hope that I'll one day be able to go back to Japan!
What surprised you?
It surprises me to think about how much I've grown as a person these past four years. I've learned so much about myself and have accomplished more than I thought I would. I used to be one of those types who liked to plan almost everything. I've learned that things will work out even when they don't go according to what I planned. Life happens, and it's impossible to plan for every unexpected change. You just have to learn to embrace it.
How did you use Augie Choice?
I used my Augie Choice to help pay for a semester exchange with Kobe City University of Foreign Studies (KCUFS) in Kobe, Japan! At KCUFS, I participated in the Japanese Language Program.
What will you miss the most?
All of the amazing people that I have met! The people on this campus are what really made me enjoy my time here. I'm grateful to have met some of the most open-minded and caring people here. I'll miss being able to see my friends every day and have genuine conversations with my professors. These past four years have gone by so quickly!
Advice for the Class of 2023?
Never forget to take time for yourself! College can be very stressful at times, so it's important to not neglect your physical and mental health. You won't be able to do your best if you feel constantly drained. Also, remember to never be afraid to ask for help. Everyone needs help sometimes; you're not alone.
"I've thoroughly enjoyed having Kim work with me in microbiology this year; she's got great hands-on bench skills and has been an excellent teaching assistant in labs. While I have (somewhat selfishly) nudged Kim to think about careers in lab research, she is drawn to clinical healthcare. I know she will be more than just a clinician. I imagine Kim will also be a strong advocate for equitable access to care and more clearly written patient care guidelines. But...she'd also be an amazing infectious disease researcher (nudge, nudge)...."