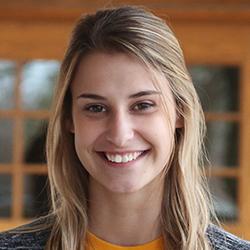 More Than I Imagined
Seniors reflect on accomplishments and look ahead
Kacey Carpenter
Graduation year: 2019
Hometown: Crystal Lake, Ill.
Majors: Mathematics, mathematics for secondary education, middle grades education-mathematics
Activities: Epsilon Sigma Alpha service sorority, Campus Ministries, Rho Nu Delta fraternity (honorary member)
Internship: Student-taught at Moline High School
Post-grad plans: Teach high school math at a school near Chicago
Why Augustana?
During my visit, I felt that all the counselors, professors and students I met really cared about my success in college. They convinced me that I was a good fit for Augie, and they were right!
Are you where you thought you'd be when you first came to campus?
Yes and no. I knew that I wanted to be a teacher, but I had no idea that my passion for math would grow like it did. I never thought it would be possible to feel so capable in my math abilities, and I give all my thanks to Dr. Clauss and Dr. Rodman for always believing in me! This school has become a second home, and it will be so hard to say goodbye.
Who helped you get to where you are now?
The professors I've had with both of my majors are fantastic. I feel like the education professors truly took the time to get to know the kind of teacher that I want to be, and they always presented me with opportunities that helped me work toward becoming that teacher. I also think that Courtney Wallace in admissions deserves the most special shoutout for always giving the best advice and supporting me in everything I do.
Peak experience?
Traveling to Jamaica during my senior year spring break was the best experience I've had in life. Being immersed in a culture so different than mine and having the chance to teach math within that culture was unforgettable. I learned so much about the power of education, the power of faith, and the power of experiencing new things in life and how they can change you forever. Shoutout to Dr. Egan and Dr. Scarlett for planning the trip of a lifetime.
What surprised you?
I learned how important it is to be confident in myself. When you believe that you will make it through the tough times, they suddenly become easier to manage. Also, I learned that it is okay to save some time for myself even in the midst of serious stress. Mental health needs to be a priority for everyone.
How did you use Augie Choice?
I used Augie Choice to travel to Rome for about two weeks during the summer of my sophomore year. Using Augie Choice for this made it possible for me to afford my trip to Jamaica two years later.
What will you miss the most?
I will miss living with my best friends. It has been the most amazing experience to live with people who make you laugh, support you when you need it and push you to be a better person. I love that we are all moving to bigger places, but it's so hard knowing we won't be a hallway away anymore as we go through life. Thank you to my roommates, AKA my best friends, for making my college experience what it was.
Advice for the Class of 2023?
STUDY ABROAD. There is nothing that teaches you more about yourself or gives you a better perspective of the world than traveling outside of your country. Even if you can only manage a shorter trip—DO IT. I promise you will not regret it.
"Kacey is one of our strongest math majors, but more importantly, she has a great approach to learning. She is curious, tenacious and excited to learn new things. Plus she wants to share that excitement with everyone. This makes her a joy to have in class and will make her an amazing teacher. Kacey will be the kind of teacher I would want my kids to have, and I look forward to the students she will send to Augustana in the future!"