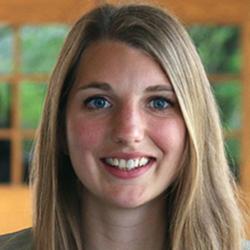 More Than I Imagined
Seniors reflect on accomplishments and look ahead
Jessica Lechtenberg
Graduation year: 2019
Hometown: Festina, Iowa
Majors: Sociology, public health
Minor: Nonprofit leadership development
Activities: Varsity cross country, varsity track & field, Heywire Improv Comedy Troupe, Reading/Writing Center tutor, Phi Beta Kappa
Internship: QC Harm Reduction intern
Post-grad plans: Work as a qualitative researcher for a social science research company
Why Augustana?
I visited Augustana during my junior year of high school, and I instantly fell in love with the positive atmosphere.
Are you where you thought you'd be when you first came to campus? 
I came to Augie thinking I knew what I wanted to major in, but once I jumped into my first sociology class as a freshman, I completely changed my path. I had no idea I would become interested in pursuing a career in research before taking a variety of classes.
Who helped you get to where you are now?
My family, friends, mentors, coaches and advisers have all helped shape me as a person. In the fall of my senior year, I connected with a previous Augustana grad and asked her to be my mentor. She has pushed me to develop as a professional and motivated me to apply for jobs I would never have looked at otherwise.
Peak experience? 
I've had so many amazing opportunities through Augie! It's so hard to choose just one. When I went on the India program, I expected to see a country so different from my own. We visited a rural village, and I was surprised to feel so at home in a foreign place. The beautiful women in the village used micro-credit loans to help open new opportunities for themselves. It was really interesting to learn about the success they had experienced thanks to an NGO that allowed women to be in charge of their own needs.
What surprised you?
I remember taking a philosophy class during the fall term of my freshmen year. In a pre-class assessment, I wrote that I didn't know where I stood on a range of moral issues; I needed more information. Augustana helped me to seek out my own answers while remaining open-minded to new ideas. I learned to think critically and research issues I didn't know about before forming opinions.
How did you use Augie Choice?
I traveled to India with a group of Augie students. We learned about grassroots feminist activism and visited NGOs in Delhi and Jaipur. We also found some time to see the Taj Mahal and tour palaces. 
What will you miss the most?
On a spring day during my junior year, I saw a newborn fawn stumble its way along the Slough path on fresh, wobbly legs. I'll miss all of the amazing people I've met, but I'll also miss these unexpected run-ins with the campus wildlife and the overall atmosphere that makes Augie a wonderful place. 
Advice for the Class of 2023?
Find a mentor who challenges you! Nobody gets anywhere alone, so surround yourself with people who both encourage and inspire you!
"Don't let Jess's generous, kind spirit fool you into thinking she's not also a deep thinker, thoughtful advocate or wickedly funny. Jess brings it all to the good work of listening to, understanding and engaging with the world around her—from Reading/Writing Center tutoring to her own research, from the stage to the track, from the classroom to the rest of her learning life."