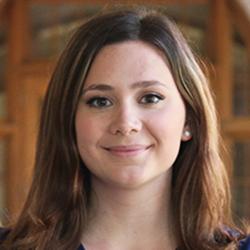 More Than I Imagined
Seniors reflect on accomplishments and look ahead
Jennifer DiBuono
Graduation year: 2019
Hometown: Elgin, Ill.
Majors: Public health, English
Activities: Best Buddies, Phi Beta Kappa
Internships: Project management apprentice, West Africa Aids Foundation and International Health Care Centre, Haatso, Ghana; tobacco policy assistant, Rock Island (Ill.) County Health Department, Rock Island
Post-grad plans: I plan to travel this summer and then begin a career in public health this fall.
Why Augustana?
I went to a small high school and was not certain what I wanted to study in college. I appreciated Augustana not expecting students to declare majors until sophomore year. The various study abroad opportunities coupled with Augie Choice were also attractive. When I visited, I felt my Augie student guide was similar to myself and liked the feel of campus, so I decided to commit to Augustana.
Are you where you thought you'd be when you first came to campus?
Not at all! I had no idea what I wanted to study or pursue after graduation. I never expected I would declare two majors and spend time in West Africa and India.
Who helped you get to where you are now?
After taking PUBH 100 with Dr. Lena Hann, I knew I would devote the rest of my life to public health. Dr. Hann introduced me to my passion and continues to inspire me to be bold.
Dr. Umme Al-wazedi's classes helped me aspire to become a global citizen and influenced me to go to India.
My family's support helped me commit to four years at Augustana. I owe my success to them.
Peak experience?
Studying abroad in West Africa was a peak experience. In Ghana, I lived with a host family for about six weeks. During this time, I was independent in a context different than my norm. My time in Ghana made me confident in my ability to thrive outside my comfort zone.
What surprised you?
I learned I am passionate about implementing policies to protect health. In my hometown of Elgin, Ill., I helped pass Tobacco 21 by presenting to City Council. I worked with the City of East Moline to implement a tobacco-free parks ordinance. I dedicated two years advocating for Augustana to adopt a stricter tobacco policy to protect the health of the Augustana community and join thousands of other institutions across the nation in becoming a tobacco-free campus. I loved working on all these initiatives. I learned I am a lot braver and more capable than I ever thought I was.
How did you use Augie Choice?
I used Augie Choice to help fund studying in West Africa for eight weeks my junior year.
What will you miss the most?
While I am excited to start a career after graduation, I am still a bit hesitant to leave Augustana. This hesitation made me realize Augustana has become home the last four years. It is hard to pick what I will miss most! I love campus, the faculty, Best Buddies, my roommates, the list goes on and on, but, ultimately, I think I will miss class discussions the most. Understanding different perspectives is powerful.
Advice for the Class of 2023?
Study abroad.
"Jennifer has been an amazing student and public health colleague. Not only has she excelled in her studies as evidenced by her induction into Phi Beta Kappa, she has traveled the world to better understand the complexities of global health, and has become a public health innovator in her community. Jennifer spent two years researching tobacco-free campus initiatives and conducting campus-wide surveys to create a new campus tobacco policy for Augustana. We are proud of her hard work and leadership in championing health for all!"