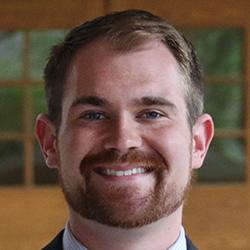 More Than I Imagined
Seniors reflect on accomplishments and look ahead
Jack Morkin
Graduation year: 2019
Hometown: Bloomington, Ill.
Major: Biology (pre-dentistry)
Minor: Biochemistry
Activities: Delta Omega Nu fraternity, Camp Kesem, varsity tennis
Internship: Surgical assistant for an oral maxillofacial surgeon
Post-grad plans: Continuing my studies at Southern Illinois University School of Dental Medicine
Why Augustana?
My dad, uncle and aunt are all alumni so Augie has always been on my radar. My best friend from high school was already a student when I was looking at colleges. Another one of my best friends was really leaning on going to Augie, and we talked about how cool it would be to be roommates.
I also wanted to continue playing tennis in college at a competitive level and Coach Jon had been recruiting me for my entire senior year telling me about his vision for the program. I knew that Augie was the best place for me.
Are you where you thought you'd be when you first came to campus?
I had no idea where I would be after my freshman year. I always knew that I wanted to do biology, dentistry and tennis while I was on campus, but I had no idea about anything else.
When I came, Greek life didn't interest me in the slightest. I thought it was all about partying and that's not what I wanted. My eventual big brother, Eric Pohl, showed me that Greek life at Augie is nothing like what movies and TV say it is. He showed me that I could choose what my experience would be like and eventually convinced me to go through the rush process. That was the best decision I've made at Augie. I've met all of my closest friends through Greek life, and they've helped me become a better student and a better person.
Who helped you get to where you are now?
My parents have had the greatest impact on me. The lessons they've taught me have given me the framework for who I am today. My best friend and roommate for the last two years, Dexter Lipps, has also had a major impact. We're both biology majors, and we've studied together for three years straight. We helped each other be better students by holding each other accountable for studying and staying on top of our classes.
The professor that had the greatest impact on me was Dr. Gehler. I took his Cell Bio and Human Physiology classes, which are two of my favorites. He taught me that being able to memorize information is not enough for the real world. He taught me to have a deeper understanding of the material so I can apply it to the real world. I feel like I really understand what is being taught, and it helps when it comes to test taking. I've used these lessons in every class since, and I plan on using them in dental school.
Peak experience?
The first week of Camp Kesem was my peak experience. That was the greatest thing I have ever been a part of. The experience was magical. I have no better way to describe it than magical. Seeing how resilient and happy the children are is the most humbling experience imaginable. I came to Camp Kesem expecting to give these kids a week of fun and happiness, but I left camp knowing that they made a greater impact on me.
What surprised you?
I came into Augie as a fairly shy kid. I kept to myself mostly, and I didn't do much other than sports and school. Some of my professors might find that surprising because now I'm very outgoing. I love to interact with people, and I'm just my normal, goofy self all of the time. My time in Greek life has helped me become more confident in myself, which I did not expect when I came to college.
What will you miss the most?
I'm going to miss the people the most. I'm going to miss my friends, my teammates, and being on the tennis team. All of the memories and experiences that I've made over the last four years are unforgettable. I wish I had more time to be with the people that made Augie the best four years of my life.
Advice for the Class of 2023?
Keep an open mind to everything. Maintain your principles, but college is meant to discover yourself. I found out who I am these past four years. I found out what I want in life because I kept an open mind.
"I've had the good fortune of watching Jack develop as a student and person over these past few years. Jack was always engaged and thorough, and he pushed himself to go beyond the minimum requirements during the learning process. He has embraced many diverse opportunities to develop an appreciation for the interconnectedness of his Augie experiences that will ultimately be an asset as he pursues his passion for dentistry. Thank you, Jack, for letting me be a part of your Augustana experience."