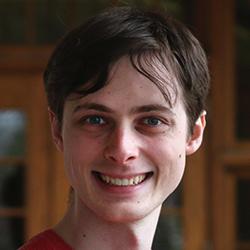 More Than I Imagined
Seniors reflect on accomplishments and look ahead
Jack Cannell
Graduation year: 2019
Hometown: Normal, Ill.
Majors: Applied mathematics, computer science
Activities: Pi Mu Epsilon (mathematics), Augustana Invitational Robotics Challenge (first place in 2018), Phi Beta Kappa
Internship: Internship at Sedona Technologies
Post-grad plans: Web developer at State Farm  
Why Augustana?
When I visited Augustana, I spoke to a professor in the chemistry department. He was open and welcoming, giving me advice and was genuinely interested in my situation. That kind and considerate attitude is something I value incredibly, and it was impactful in my decision to come to Augustana. 
Who helped you get to where you are now?
When I came to Augustana, I did not know what I wanted to do. I had a vague idea, but no real direction in my life. As I began to take classes, I began to form bonds with faculty here, specifically in the math department. I sought out these professors for guidance in finding a path. First it was small things: what class should I take next term? What kinds of extracurricular would be good for me? But it was not long before I began to ask bigger questions: What do I want to do with my life?
I spent a great deal of time, talking to half a dozen professors, asking them for guidance and advice. In the end I made a decision to go into math, and later into computer science as well. I never regretted it. I am very grateful to those professors who helped me steer my life to where it is now.
Peak experience?
One experience I really enjoyed was participating in the Augustana robotics contest last spring during Celebration of Learning. We had to move four empty soda cans from one side of an arena made by 2x4s to another. I formed a team with several of my peers and got working on a solution. It was a lot of work, but we came up with a robot with a bulldozer design. It pushed the cans from one side to the other, which ended up being a really good strategy.
I loved designing and building that robot, and seeing all the other designs people came up with. It was a great opportunity for community, fellowship and competition, and was a whole lot of fun.
What surprised you?
I am surprised by how much I have grown in the last four years. I have learned so much, not only about my chosen discipline, but also about how to interact with people, both as peers and as superiors. I have also learned how to "adult," how to function in the adult world, both in a workplace environment and a domestic one. In short, I have matured.
And as I think back over my time at Augie, to the roommates, the group projects, the interactions with professors, the campus-wide community events, I know how impactful everything has been in getting me here.
How did you use Augie Choice?
I used my Augie Choice to finance my internship over the summer at a local tech company. There, I was able to really experience what I might look forward to in the workforce after graduation. This experience was extremely valuable to my understanding of what to expect for my future, and was a tool that gave me the experience I needed to get a job after graduation. Without Augie Choice to help pay for housing and transportation, I may not have been able to experience this great opportunity. 
What will you miss most?
One thing I really have loved at my time at Augustana is the ability to tackle difficult problems with my peers. I enjoy getting a difficult problem to solve, and then a group of people who all work on it together, calling out different ideas and strategies to try, and then trying them out to see which ones work and which ones do not. It is a wonderful merging of community and scholarship. These are the kinds of experiences I will miss most when I move on.
Advice for the Class of 2023?
Find your group on campus. Having people to share the wonderful college experience is something I have found incredibly valuable. I am incredibly grateful for the friends I have met here, and I hope you find friendships that will last a lifetime.
"Jack is an excellent student who is passionate about helping his peers and community. Whether he is tutoring calculus in our student lounge, building robots with his friends or hacking his way into our network lab, Jack has been a familiar and friendly face in Olin. For his achievements and his dedication to the math and computer science community at Augustana, Jack was awarded the Harry Nelson Award for Excellence and Achievement in Applied Mathematics. I will miss talking with Jack about all manner of subjects, and I wish him all the best for the future!"