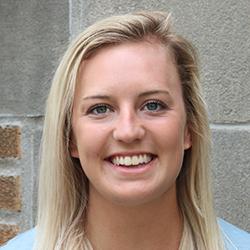 More Than I Imagined
Seniors reflect on accomplishments and look ahead
Izzy Anderson
Graduation year: 2019
Hometown: Rock Island, Ill.
Majors: Biology (pre-physician assistant), psychology
Minor: Biochemistry
Activities: Varsity basketball (Google Cloud Academic All-District), Phi Rho sorority
Post-grad plans: Get my master's in physician's assistant studies at the University of Dubuque
Why Augustana?
I had to keep it in the family! Both of my parents and two of my three brothers have graduated from Augustana. I loved the way this campus felt like home when I first visited, and I knew this was an institution with an awesome biology department that would be able to help me reach my ultimate goal of becoming a PA.
Are you where you thought you'd be when you first came to campus?
I came to Augie as an 18-year-old with the goal of going to physician's assistant school upon graduation. As a freshman, this seemed like a pretty lofty goal considering how competitive PA programs can be. But in my time spent at Augustana, I became more and more confident in my choice to pursue this route, and in December of my senior year, I got the call informing me I was offered a seat in the University of Dubuque PA class of 2021! This is where I hoped to be upon graduation, and Augie gave me the tools and confidence to make it happen.
Who helped you get to where you are now?
Mom and Dad (Kathleen and Matt) – For being my rock when things didn't go my way, and celebrating every one of my accomplishments like it was their own.
My brothers (Jake, Sam and Leo) – They never failed to lighten the mood and remind me that sometimes the best thing to do is just laugh.
My Augie Ballers – For teaching me the value of working with a team to accomplish a goal, and surrounding me with motivated individuals who became some of my best friends.
All of my teachers in the bio department – These teachers challenged me academically more than I have ever been challenged, but they also genuinely wanted to see each one of us succeed and gave us the tools to do so.
Peak experience?
A peak experience was getting the chance to play college basketball with my family in the stands every night. Not many people have the opportunity to play a college sport in their hometown. All the hours spent in the gym were made worth it because I got to share this journey with my whole family. And of course, I could always count on hearing "AND ONE" from the stands whether the foul should have been called or not!
What surprised you?
I learned that a little bit of confidence can go a long way. Whether it be athletically or academically, I know I possess the grit to prepare myself to be successful. It's that level of confidence that will allow me to perform when it's time to perform under pressure.
How did you use Augie Choice?
I used Augie Choice to travel to Italy with our basketball team where we got the chance to immerse ourselves in the Italian culture and play three games against local teams.
What will you miss the most?
I'm going to miss being surrounded by all of the awesome friends I have made in these last four years. The support system I have here—with peers, teachers and coaches—pushes me to be the best version of myself every day. I'm going to miss having these people just steps away all the time!
Advice for the Class of 2023?
Nobody has life figured out yet, so enjoy the journey and make as many memories along the way as possible!
"Izzy is as disciplined and skillful in her academics as she is on the basketball court. It has been wonderful to watch her respond to challenges, raising my own expectations of what she can accomplish."