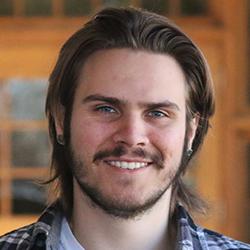 More Than I Imagined
Seniors reflect on accomplishments and look ahead
David Hundrieser
Graduation year: 2019
Hometown: Chicago, Ill.
Majors: Classics, anthropology
Activities: Asian Student Organization, Collegia
Internships: Putnam Museum, summer fellowship research
Post-grad plans: Professional experiences and grad school
Why Augustana?
I first learned about Augustana through family. Upon visiting campus, I found the environment really comfortable and relaxed. I also liked the size of the campus and student body. It was big enough to have a variety of opportunities, yet small enough to form close bonds and receive direct help from professors and staff. 
Are you where you thought you'd be when first came to campus?
Truthfully, I never thought about where I would be, or where I should be, my senior year. My focus was on trying as hard as I could in my classes while also using the time to explore what Augustana had to offer on and off campus. I trusted the system and knew I would receive a good education. From there, I set the sky as my limit and experimented with as much as I could.
Who helped you get to where you are now?
I would really like to thank my advisors Dr. Adam Kaul and Dr. Kirsten Day, as well as the other professors in the Classics department. Every step of the way, they were willing to put aside time for me and explore potential opportunities. It was because of them that I was able to get set up with working in Greece and doing research in South Dakota; it is also because of them that I was able to stay on track and motivated.
Peak experience?
While attending Augustana, there have been several experiences I would call life defining. Most recently, my research in the Black Hills of South Dakota forced me to look at the world in a different way and address difficult issues that have been overlooked for years. The experience was humbling and made me appreciate just how much I have and just how much I have to offer. Indeed, it would be selfish of me to reserve everything I have learned here for my own benefit.
What surprised you?
If nothing else, I learned that my place is on the frontlines working to promote the welfare of the planet and all peoples living on it.
How did you use Augie Choice?
I used my Augie Choice for my internship working at the Putnam Museum in Davenport.
What will you miss the most?
Although I can feel it is time for me to go, I will miss all the opportunities to learn about such diverse subjects in a creative environment. Whether it was my astronomy class, backpacking in the Grand Canyon for geology or learning to translate ancient Greek and Latin, the opportunity to learn here is unparalleled.
Advice for the Class of 2023?
Academics are important, and so are on-campus opportunities. However, college offers a safe space to explore interests, passions and hobbies anywhere. Whether in the local communities or in a different country, exploring interests are just as important as academics. Where I am at now is as much because of the classes I took as it is because of taking the time to build on my hobbies and passions elsewhere. Augustana provides an invaluable safety net full of advisors, faculty and staff devoted to helping you succeed and finding opportunities that you would have never known existed, unless you asked.
"When I met David the summer before his freshman year, he struck me as someone who would make the most of his college experience. On top of his regular schoolwork, David has participated in study away in the U.S. and abroad, met with visiting scholars, excavated in Crete, interned at the Putnam, and shared what he's learned with local schoolchildren and in campus presentations. David has a curious mind and an adventurous spirit; I am excited to see where life will lead him next!"