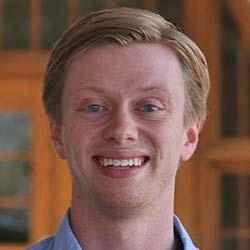 More Than I Imagined
Seniors reflect on accomplishments and look ahead
Daniel Williams
Graduation year: 2019
Hometown: Sherrard, Ill.
Major: Psychology
Minors: Ethics, theatre arts
Activities: Heywire Improv, Opportunity Kicks Tutoring, Reading/Writing Center tutor, Omicron Delta Kappa honor society
Internships: (1) Anani Memorial International School in Accra, Ghana; (2) Scott County Jail, Iowa; (3) Sherrard (Ill.) School District; (4) Martin Luther King Jr. Community Center, Rock Island
Post-grad plans: I'll be attending Washington University in St. Louis to receive my MSW, with the goal of becoming a school social worker in a rural area.
Why Augustana?
I had actually committed to another smaller liberal arts school a few hours away in Iowa. I never thought I would want to stay local and go to a school so close by. However, I figured out that Augie offered so many of the amazing liberal arts opportunities as well as a chance for me to continue to live in the Quad Cities, a community that I love. Two days before the deadline, I applied, toured and got accepted all on same day.
Are you where you thought you'd be when you first came to campus?
I came in planning to go on the pre-law track and then made the switch to English education, with a couple other smaller journeys in there. Obviously a far cry from where I am now! I also never thought I would want to return to small, rural towns like the one that I'm from. However, that's exactly what I'm planning on doing as soon as I graduate with my MSW.
Augustana is huge on making sure students use self-reflection to make sure they are on the correct path. This self-reflection got me to think about my upbringing and how it wasn't right for me to just abandon the communities that made me the person who I am, especially when those communities are in need. Augustana pushing us to look at our past really shaped my future, which I am incredibly grateful for.
Also, when I first came to campus, I was incredibly involved in student groups on campus. Now I'm still involved on campus, but I also spend most of my time involved in the community. I think that's something most seniors can say. Student groups help build your interest in certain topics, but then as you become an upperclassman, you slowly trade your student groups for community organizations. I can say I hoped to be involved in the community, but didn't expect to be as involved as I currently am.
Who helped you get to where you are now?
Specifically, Virginia Johnson was my LSFY (now FYI) professor and was such a welcoming presence for first-year students.  She really got me to start looking at careers where I could be working with children and social justice, which led me to the education path, and finally led to my current plan. She was also my boss in the Reading/Writing Center and, even though she's retired, is always a supportive presence. Without her, I also never would have met Lucas Street or Jake Romaniello of the Reading/Writing Center, who are two of the most supportive and invested people I've ever had the pleasure of meeting.
There's also Dr. Scarlett in the Education Department as well. Through the organization Opportunity Kicks Tutoring, he showed me how much someone was able to care about the lives of students and future generations.
There are of course a number of other specific people I would love to thank, but would run out of room! I met all of my closest friends here during Welcome Week, and we all remain incredibly close just weeks from graduation. The professors in the Psychology Department have helped refine my viewpoint on social issues in an amazing way. The Theatre Department has been a second home to me and a place I know I'll always be welcome. Of course, my family and parents have been there every step of the way as well!
Peak experience?
Two come to mind: My time studying abroad in West Africa was amazing in countless ways. It was my first time traveling out of the country and getting to live, work and learn in Ghana, Morocco and Senegal was an unforgettable experience. The second was the opportunity to teach emotional empathy through Shakespeare to the female population at the Scott County Jail.
What surprised you?
I've learned that, as long as you're willing to commit the time, you can choose to be passionate about an endless number of issues. Coming into Augie, I cared about social justice issues, theatre and community involvement, among other things. However, leaving Augie, I can say I'm truly passionate about all of these subjects, plus other ideas that I wasn't even aware of before coming to college.
I thought I'd leave college with a more singular view on who I was, with some of my hobbies and passions from when I was younger fading away. Instead, they grew and grew. Augustana has shown me that there was doesn't have to be a "Social Work Daniel" and a "Theatre Daniel" and a "Student Daniel" or any other number of "Daniels." They instead have helped cultivate all of my passions into a singular person so I can do my best on just being "Daniel."
How did you use Augie Choice?
I used Augie Choice to help fund my study abroad experience in West Africa.
What will you miss the most?
Everything? Is that an acceptable answer? Obviously it's a cop-out one. I think the main thing will just be the people, which is an all-encompassing cop-out answer in itself. The experiences I've had with peers inside and outside of the classroom; the conversations I've had with peers, professors and faculty throughout campus; the performances I've gotten to both see and be a part of; the student groups I've gotten to join.
Every experience here is driven by the people, both those you know and those who might be basically strangers. Obviously I'm looking forward to the future, but I'm hoping that the future holds a community similar to the one here at Augustana.
Advice for the Class of 2023?
Get involved in the Quad Cities! It is an amazing community full of resources and fun things to do. Just because it's a smaller community smack dab in the middle of the Midwest doesn't mean that it doesn't have a lot to offer. There are amazing restaurants, a ton of theatre, art galleries, parks, outdoor spaces, museums and any other number of things! Enjoy everything campus has to offer, but also explore the Quad Cities as a whole.
"It was delightful to watch Daniel act in all of the major theatrical productions at Augustana these past four years, but even more inspiring was to see the transformative learning that took place behind the scenes, which led to his vocation in social work. I'm excited to see Daniel continue to challenge the status quo and change the world through his deep desire for social justice."