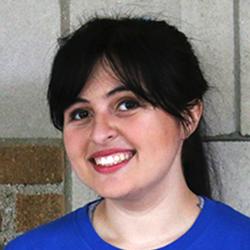 More Than I Imagined
Seniors reflect on accomplishments and look ahead
Bex Fernandez
Graduation year: 2019
Hometown: Riverside, Ill.
Majors: Psychology, Scandinavian studies
Activities: Jenny Lind Choir, Ascension Ringers, Black Squirrel Productions, Sigma Alpha Iota (music), Sigma Kappa Tau sorority, Gender & Sexuality Alliance
Post-grad plans: Further schooling to become licensed in American sign language interpretation and work in human resources
Why Augustana?
My older sister attended Augustana, and I loved visiting her. She took me to campus events, and I would hang out in the Brew while she was in class. I already felt like a part of Augustana. When the time came for me to apply to colleges, I was torn between the music program here and at another school. In the end, the faculty meetings made my decision. The professors I spoke to here were so friendly and helpful, and I decided on Augustana!
Are you where you thought you'd be when you first came to campus?
Not at all. And it's wonderful! I came in intending to be a music composition major, and eventually found that composition wasn't really what I wanted to do. I was a little lost for a while, and in the midst of taking classes, I discovered that I'm really good at psychology, and I like it a lot! I took Swedish classes to fulfill my language requirement and never imagined falling in love with it the way I did. I wanted to take more classes, and my professor told me I was on my way to a major, so I did it!
Who helped you get to where you are now?
My psychology advisor, Dr. Nordling, helped me a lot! She kept me on track and was always willing to meet with me and answer my questions. I would not have learned what I have about video editing, Photoshop and coding if it weren't for Doug Tschopp in the EDGE Center. Working in EDGE helped me gain a lot of business skills that I wouldn't have otherwise learned. It made me more resourceful and more hirable.
Peak experience?
Let me preface this with a brief backstory: I have performance anxiety (a.k.a. stage fright). It was so bad that I used to faint when I had to sing in front of people. When I wouldn't faint, I would shake, cry, my throat would close, and a bunch of other debilitating things would happen. I never stopped performing though because I love to sing. This is something I worked on in my voice lessons here at Augustana.
A peak moment for me was the first time I was able to sing at a recital without having a panic attack. I remember being nervous and wanting to run away and never sing again, but my voice teacher was there. She gave me a pep talk beforehand, and I was able to get up in front of everyone and sing all the way through my song. It was a really big moment for me.
What surprised you?
I learned that I am capable of so many things if I just apply myself! Before college, I was always worried about the stress that comes with doing so many things, but I never felt overwhelmed with how much I was able to take on. The activities I joined, leadership roles I held, classes, etc., all made my Augustana experience worthwhile, and I am impressed with how well I handled doing it all at once!
How did you use Augie Choice?
I went to a psychological conference in Denver with my Senior Inquiry advisor! I got to meet other undergrad students conducting their studies and attended a graduate school fair that helped give me an idea of what's out there.
What will you miss the most?
I'll miss the community of people I've built around myself. After Augustana, I won't have all my friends living in my dorm or no more than a 15-minute walk away. There are people I will keep in contact with, but we won't be able to see each other every night and every weekend like we could here.
Advice for the Class of 2023?
Join everything! I mean it. Fill your schedule with clubs and activities that you never thought you'd do. You won't stay in everything past the second week of school, and that's good, but you'll find new things you love and meet a bunch of new people that way.
When I started, I had a different club meeting every night. Obviously, I didn't stay in everything for very long, but I met people who are still my friends today, and I found the groups that I really enjoyed being in and stuck with. Don't overwhelm yourself, and only commit to your favorite groups/organizations.
MOST IMPORTANT THING: Filter your Augie emails! Go into your Augustana email settings and make filters for incoming mail from professors, club leaders, organizations, etc. You get A LOT of emails, and you do want to keep up with them. Trust me.
"Bex is like a bag of trail mix—this is a compliment! She is a blend of amazing attributes that individually are good, but together come to form something completely special and so unique. In one conversation, we could talk about sign language, Swedish YA literature, dogs and bright hair dye. She is sweet, empathetic, creative and inquisitive; her well-rounded personality will help her succeed in any path that she chooses. I just hope that path sometimes includes a visit to the psychology department!"