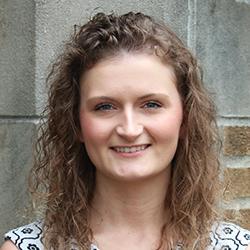 More Than I Imagined
Seniors reflect on accomplishments and look ahead
Bethany Koch
Graduation year: 2019
Hometown: Machesney Park, Ill.
Majors: Political science, economics, German
Activities: Chi Alpha Pi sorority, Pi Sigma Alpha political science honor society, Phi Beta Kappa
Internships: (1) legislative intern for State Sen. Neil Anderson in Moline, Ill., (2) intern for State Rep. John M. Cabello (of my home 68th district), and (3) economic research intern at an economic consultancy in Washington, D.C.
Post-grad plans: I will continue looking for employment in Washington, D.C. I would like to work there for a couple years, then enroll in an international relations master's program. 
Why Augustana?
I felt extremely comfortable while touring campus. I liked how class sizes are small, allowing students to have individualized attention and allowing them to create personal relationships with the professors.
Are you where you thought you'd be when you first came to campus?
When I came to campus, I had a completely different career path picked out. I'm definitely not where I thought I would be. If someone would've told me I would end up graduating from Augustana with three majors (ones I originally wasn't thinking I would study) or that I would spend several months living and studying in a foreign country, I would've thought they were lying.
Who helped you get to where you are now?
Several professors have helped me achieve all I have so far at Augustana. Dr. Magalhães, Dr. Dehnel, Dr. Seidlitz and Dr. Chris Marmé—just to name a few—have all really helped shape me not only as a student, but also as an individual.
Peak experience?
Studying abroad in Germany. Through Augie Choice and the Freistat Grant, my exchange program was entirely paid for—an experience I would have not had were it not for the financial help from Augustana. Through this exchange program, I was able to develop my foreign language abilities and even mature more as an individual.
What surprised you?
I learned that I am a very independent person, and this independence has allowed me to succeed in different aspects of my life, both personally and academically.
How did you use Augie Choice?
I used Augie Choice to study abroad in Germany. I lived in Passau, Bavaria, for around five months during the spring/summer terms of 2017. While there, I attended the University of Passau.
What will you miss the most?
I have a few different things I will miss a lot. I will miss the feeling of community, the fact that you could always find something to do around campus, and I will really miss the stuffed dogs in the library that they bring out during midterms and finals week.
Advice for the Class of 2023?
Take advantage of every opportunity that presents itself, even if it seems overwhelming, scary, etc.—you will regret it if you don't.
"This year's class of graduating seniors majoring in economics has several students who have distinguished themselves. Despite being part of such a strong class, Bethany stands out. In fact, she is one of two students we selected for this year's Tall Grass Capital Award. This is an honor given to graduating majors who have excelled in our courses. It has truly been a privilege to have been her professor. I know I speak for the entire department in wishing her all the best."