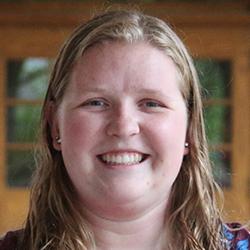 More Than I Imagined
Seniors reflect on accomplishments and look ahead
Barb Ramont
Graduation year: 2019
Hometown: Wauconda, Ill.
Major: Elementary education (K-12 Reading Teacher Endorsement)
Activities: Zeta Phi Kappa sorority (Relay for Life, Dance Marathon, Polka Dot, and Boys and Girls Club fundraising), several intramural sports 
Internship: I student-taught in a second-grade classroom at Bridgeview Elementary School in Le Claire, Iowa.
Post-grad plans: Teach third grade at Prairie Elementary School in Buffalo Grove, Ill.
Why Augustana?
Augustana is a big family school for me. My mom, two of my aunts, my older cousin and older sister all attended Augie and had nothing but good things to say about their experiences. I spent time staying with my big sister and fell in love with campus. I felt like it was somewhere I could see myself spending the next four years.
Are you where you thought you'd be when you first came to campus?
I have done so much since arriving on campus. I came into college undecided and didn't know what to major in. I went to CORE and discovered my passion for teaching, and I haven't looked back. My professors in the Education Department have supported, challenged and encouraged me along the way. I have participated in several opportunities that I can only credit to Augustana and the connections it has given me. I took on leadership positions in my sorority that I would not have thought about before entering college.
Who helped you get to where you are now?
My family is a huge support system. They have helped me not only financially but also emotionally. They were there during any tough decisions and provided anything I needed to help complete my degree and take advantage of the opportunities. My friends and professors have been there every step of the way. My class sizes were small within my major, and I believe this was extremely beneficial. All 12 of us worked toward a common goal, and this intense amount of group collaboration helped me become a strong team member.
Peak experience?
My peak experience was traveling to Jamaica with the Education Department and 17 other students. It was something I had been looking forward to since entering Augustana, and it was life-changing. From having student-taught prior to this experience, I felt the trip was even more worthwhile. This program was not only enjoyable and relaxing, but also educational. I was able to have an experience in a school outside the United States, and I can't wait to bring this knowledge with me as I work to become a teacher.
What surprised you?
I learned that I can push myself and work outside my comfort zone. Going into college I expected to meet new friends, but I did not expect that these people were going to be some of the most supportive and motivating people I would ever meet. I learned that I can excel at tasks if I have confidence in myself, and I hope to bring that with me in the future.
How did you use Augie Choice?
I used to it study away during spring break of my senior year. I traveled to Jamaica to tour the island and work in the Alpha Schools in Kingston.
What will you miss the most?
The friends and relationships I have built over the last four years. I met an incredible group of people from my first days living in Andreen to everyone I encountered in the Education Department and those I met during my years involved in my sorority. They shaped my college days and being away from them, not living a five-minute walk away, is going to be hard. Being surrounded with such support from friends and staff is something that will be greatly missed. I know I will still receive this support after graduation, but It won't be the same as being here on campus with them.
Advice for the Class of 2023?
Take advantage of the opportunities Augustana gives you! I had an incredible experience completing an additional endorsement within my major, studying abroad in Jamaica, and working with Spring Forward Learning to create an unique program that brought kids from Rock Island to Augustana in the summer. I would not have been able to do this without the support and recommendations from my professors. Do the extra work, and the experiences will be worthwhile and life-changing.
"I have truly been fortunate to work with Barb over the course of three years—from the beginning of her work in the EDUC department through a very successful student-teaching experience. Barb's enthusiastic, thoughtful and compassionate interactions with her students model what all teachers should emulate. She extended herself by completing our Reading Teacher Endorsement and participating in the Kindergarten Number Sense Project. Barb is a strong ambassador for Augie, and I look forward to hearing all about her teaching career. Thank you, Barb, for coming to Augie!"