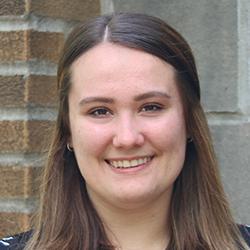 More Than I Imagined
Seniors reflect on accomplishments and look ahead
Alyssa Mish
Graduation year: 2019
Hometown: Elgin, Ill.
Majors: Business administration-management, business administration-marketing
Minors: Spanish, entrepreneurial studies
Activities: Advertising Developers (ADs), Alpha Delta Sigma (advertising), Business Club, Zeta Phi Kappa sorority, Mortar Board
Internships: IFTA Congress event planner; EDGE Center creative strategies intern; Kane Country Cougars operations intern
Post-grad plans: Account coordinator at Creative Group, Inc. 
Why Augustana?
I chose Augustana because of the small class sizes. I knew I would be able to have many opportunities to study abroad, participate in clubs and develop lifelong relationships with friends. After visiting Augie, I got the feeling that everyone on campus wants to get to know you as a person and not just a number. I felt a sense of community when I stepped on campus, and I knew I wanted this to be my home for the next four years.
Are you where you thought you'd be when you first came to campus?
Definitely not! Prior to college I had never traveled out of country. I have been fortunate enough to travel to Scotland, Spain, Thailand, Gibraltar and Morocco with my internship, and I was able to study abroad in Italy. On campus I am involved in more clubs and organizations than I ever imagined.
Who helped you get to where you are now?
I wouldn't be where I am today without the support of my family, friends and professors. On campus I spent most of my time in the EDGE Center the past four years, and I cannot thank Doug Tschopp enough for being my internship supervisor and connecting me with individuals in and around the Quad Cities. He has made a huge impact on my life and has made my time at Augustana very enjoyable.
Peak experience?
My peak experience in college was participating in the National Student Advertising Competition with the Advertising Developers (ADs) and serving as a co-president. Our client this past year was Wienerschnitzel, and we placed fourth in the competition, which is the highest we have ever scored during my time at Augie. Creating a full strategic marketing plan about hot dogs and then competing in the competition in South Bend, Ind., was definitely a highlight of my senior year.
What surprised you?
I learned that I am capable doing anything I set out to do. I have planned three international conferences with over 300 attendees. I have studied abroad and visited many other countries with my internship. I have made lasting connections with friends and faculty. Coming into Augie as a first-year, I was shy, but over the years I have been able to break out of my shell and be very involved on campus.
How did you use Augie Choice?
I used my Augie Choice to study abroad in Rome, Italy. CORE was very helpful in assisting me in finding a study program that fit my schedule and that I was interested in.
What will you miss the most?
I will miss the EDGE Center crew and all the wonderful professors I have had over the past four years. I cannot believe how close you can get with individuals you have known for only a few years, and I am looking forward to coming back to campus to visit!
Advice for the Class of 2023?
Four years at Augie go by very fast. Join clubs and organizations that interest you; build connections between friends, faculty and staff; and explore the Quad Cities! There is so much that Augie and the Quad Cities has to offer, so take advantage of it and have fun!
"No student can do everything the EDGE Center has to offer, but Alyssa certainly took as many opportunities as she could and rocked them all. Highlights include four years of strategic communication planning in the ADs group, four years of planning and running a large international conference (including international travel), and a summer EDGE internship. Her amazing skillset—including marketing strategy, organization, event planning, public relations and logistics—makes her ready to start her career."