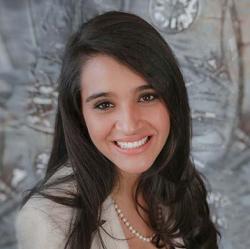 More Than I Imagined
Seniors reflect on accomplishments and look ahead
​Rachel Akmakjian
Graduation year: 2016
Majors: International business and Classics
Activities: Varsity track & field, Delta Chi Theta sorority, Student Government Association, Collegial Classica
Internships: I had an internship in London at Facets PR in the summer that followed my junior year.
Post-grad plans: Attend the Gemological Institute of America In New York City to become a gemologist and diamond expert in order to pursue my long-term dream of having a career in the diamond industry.
Why Augustana?
When I first received a letter from the Augustana track coach, two thoughts ran into my head: "What is Augustana?" and "Where the heck is Rock Island, Illinois?" I knew I wanted to study out-of-state since you can always go home, but life only gives you so many opportunities to leave. I chose Augustana because it was the only school that offered both of my majors as well as the opportunity to run track. Augustana also provided a strong support system as well as many opportunities.
Are you where you thought you'd be four years ago?
Four years ago, I had no idea I would be as far as I am now. I was completely unaware of the extent to which my experiences and the friends I have made would sculpt me to be the person I am today. I knew Augustana was a great choice for me; I just didn't now how truly perfect it would be. Your college years are some of the most critical years of your life. You do a ton of growing, and you find out who you really are. That being said, I am glad I found myself here.
Who helped you?
I would not be where I am today without the support of my family. Never once have they doubted my dreams or believed them to be too lofty. However, I owe an immense amount of gratitude to my friends. As an out-of-state (Colorado) student, my friends took on the role as my family away from home. They were there through good and bad times, and their support never faltered. Finally, I would like to thank the faculty and my coaching staff who were more than teachers, but mentors, advisors and friends. Thank you also for providing me with a home away from home.
A peak experience?
This question is a tough one for me to answer. Without exaggeration I could literally write a novel containing my favorite memories here at Augie. Going to Greece, Rome, London and winning the talent show definitely rank near the top of the list. But the truth is I don't think I can pick a specific experience because being a student at Augie means being a part of something great, something bigger than yourself, and that is truly amazing.
What has surprised you?
I learned that no one really likes being pushed out of their comfort zone, myself included. However, it is when I am out of my comfort zone that I have my best experiences and learn the most about myself and the world around me.
How did you use your Augie Choice?
I used my Augie Choice when I studied abroad in London. London was truly a life-changing experience. I was completely unaware that a place could steal your heart the way London stole mine. I am counting the days until I return.
What will you miss the most?
I will definitely miss the sense of community and family that Augie provided. Over the past four years, I have made friendships and bonds with people that I cannot imagine saying goodbye to. However, I am confident that these relationships will last a long time, if not forever. As cliché as this sounds, I guess I'm thankful that I have something that makes saying goodbye so hard.
Advice for the Class of 2020?
Please enjoy every second you get here at Augustana. Everyone will tell you that college is the time of your life and that it goes by extremely fast. The sad thing is that you don't believe them until it is too late and you're sitting there spring term of your senior year writing your "More Than I Imagined" answers. Augustana was way more than I could have hoped for, and I hope that you find a home the way I did.
"Rachel is a bright, focused, ambitious student, but one who is open to new learning opportunities and who understands that seemingly unrelated fields might enhance her career goals in unexpected ways. Rachel has made the most of Augustana, not only by pursuing a well-rounded education, but also by participating in study abroad programs, international internships, college clubs and work-study opportunities. She has been a delightful addition to the Classics department."