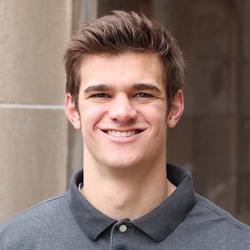 More Than I Imagined
Seniors reflect on accomplishments and look ahead
​Joey Strain
Graduation year: 2016
Major: Secondary education (geography) 

Activities: Track and field, Rho Nu Delta fraternity
Internships: Student teacher at Bettendorf (Iowa) High School; intern with Augustana's Upper Mississippi Center for Sustainable Communities
Post-grad plans: Teach social sciences at a high school or middle school.
Why Augustana?
I chose Augustana because of the people. After visiting many schools, I didn't find an atmosphere anywhere close to what it is at Augie. The school is full of people with different interests, but yet everyone is similar in that they are all genuinely great people. There is such respect and admiration for one another regardless of majors, interests or hobbies. These relationships and genuineness are present amongst everyone who deals directly with Augie students. I really wanted that environment in my life. I also wanted to be able to build long-lasting and meaningful relationships with my professors. Augie's climate allows that to happen.


Are you where you thought you'd be four years ago?
Four years ago, I couldn't even imagine that my college experience would have been this good. I surrounded myself with people I truly care about and who truly care about me. These friendships and relationships will last a lifetime. My teachers, friends and coaches all advocate for my success and help me take advantage of opportunities to better myself.
I ran track, become a team captain and won a team conference championship after suffering injuries that were supposed to end my athletic career. I built a support system that guided me through my ups and downs. I joined groups and organizations that allowed me to make a difference in the community by putting on events such as St. Baldrick's and a 5K for Alzheimer's research. I found love at Augustana. I could not imagine four years ago that I would have all these opportunities.
Who helped you?
My parents provided me with the support and encouragement to follow my dreams. They were there to celebrate in my triumphs, and they provided guidance through my struggles. They are truly the two best people I will ever meet. My professors also helped me. They provided me with the necessary tools for my future career, showed me that they truly care about my future, and went out of their way to provide opportunities for me. My track coach Paul Olsen also helped me construct my overall outlook and philosophy on life and encouraged me to be the best person and athlete I can be. My friends constantly inspire me to be a better person, and they continually bring joy and good times into my life every moment I am with them.
A peak experience?
Winning the CCIW Indoor Conference Championship in track and field was an incredible experience. The track team is a very special and inspirational group of guys. We do things a little differently than just about any other team in any division in the world. We don't operate by set-in-stone rules... rather we operate by a guiding philosophy and allow each other to adopt that philosophy to our lives and our life to that philosophy. The guys on the team are some of the hardest-working people that anyone will ever meet, on or off the track. They are just good guys who care about the world around them. When we won conference, it was a peak experience to see a group of people operating under that philosophy triumph. It was inspirational to see a group of guys go out and 'celebrate life' and let the rest take care of itself.
What has surprised you?
I learned that I have the ability to find inspiration and good in nearly everyone around me. Every person you come into contact with has their own story.
How did you use your Augie Choice?
In another peak experience, I used my Augie Choice to study abroad in Jamaica. I traveled the country and taught at the Alpha Boys School in Kingston. This trip was one of the most moving experiences of my life and helped reinforce that teaching is the right career path for me. It was life-changing to work with the students in Jamaica and to see the life, love and passion that they bring to the classroom and conversation every day. In Jamaica, I was able to have some of the best conversations that I will ever have. There is something special when two cultures meet and have a genuine interest in one another. It allows you to prioritize your own life and understand what matters and what is nonsense. Jamaica has a special place in my heart now.
What will you miss the most?
I am going to miss the atmosphere. It was special to be surrounded by so many great, genuine, motivated and friendly people for four years.
Advice for the Class of 2020?
Be interested in all people you will meet. They will each be phenomenal. There is something important to learn from all of them.
"Joey has truly made the most of his time at Augustana. He is a talented athlete, a dedicated leader, an outstanding student, and he is going to be an amazing teacher. While at Augie, he sought out opportunities that allowed him to grow personally and professionally, such as the study abroad trip to Jamaica and the Sustainable Working Landscapes Initiative. He embodies the qualities we hope to see in all of our students."