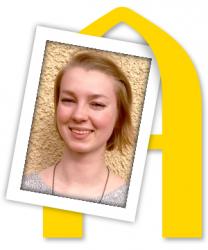 More Than I Imagined
Seniors reflect on accomplishments and look ahead
​Rosalie Starenko
Graduation year: 2015
Majors: Geography, Spanish
Activities: Phi Beta Kappa, Augustana Local Agriculture Society
Post-grad plans: I plan to stay in the Quad Cities for about a year before applying to graduate programs in landscape architecture/urban design (at least that's what I'm thinking right now). At this moment, I'm really looking forward to soaking up this place before I leave for somewhere entirely new and exciting.
Why did you choose Augustana?
I've always had a small inkling toward Augustana; several people in my family have gone to school and worked here. My mother works here now, and I've been on and off this campus since I was a kid. When I began to apply to colleges, I always kept in mind that Augustana was a place that I was already so familiar with, and that I should try to really expand myself when I went to college. But after a few visits to other schools, I found that didn't necessarily mean expanding the distance between my school and my hometown. Augustana had a certain rightness to it that I wasn't willing to ignore.
Are you where you thought you'd be four years ago?
Yes and no. When I first came to school, I thought I would be more interested in environmental studies and physical geography as a career path, and that I would go to grad school immediately following graduation. Since then, my interests in geography have shifted to include the cultural and human side of geography, and I'm really thinking about what place means to people. But that just means I'm interested in more than I thought.
Who helped you get to where you are now?
I have received so much help from professors, my friends and my parents. The whole geography department — Dr. Chris Strunk and Dr. Matt Fockler, especially — has influenced my thought processes from the beginning. It's brilliant. Dr. Araceli Masterson in the Spanish department showed me how to think sensitively about being abroad in a place very different from what I was used to. And here and there, I would take a class outside of my majors that left my head spinning. It's all made me feel whole.
A peak experience?
Going to Holden Village, a small community in the Northern Cascade Mountains, is probably the experience most important to me. We were a group of wonderful students and professors, the landscape was like none other I'd seen before, and the combination of those plus the classes we were taking there gave a feeling of understanding and content that I'll never forget. Another peak, however, was finishing and presenting my Senior Inquiry.
What did you learn about yourself in these past four years that surprised you?
Mostly, I learned that I'm not as shy and quiet as I thought I was in high school.
How did you use your Augie Choice?
I used Augie Choice for a summer study abroad trip to Ecuador and Peru. (My first of many travel experiences with Augustana.)
What will you miss the most?
I'll miss living with my incredible friends the most. But I will also miss doing the projects that professors assigned, and really working hard on them. I'll miss the support I got from those professors.
Advice for the Class of 2019?
Oh, definitely: Be sure to get enough sleep.
"It has been a privilege to watch Rosalie find her passion in landscape architecture and urban design during her time at Augustana. A thoughtful and inquisitive student in the classroom, Rosalie has excelled during community projects in her hometown of Rock Island, including developing an innovative mixed-methods SI project on rain gardens in the Keystone neighborhood and creating a beautiful site design for the city's new demonstration garden. I can't wait to see what amazing ideas Rosalie will come up in graduate school and beyond as she works to create attractive environments and cities!"