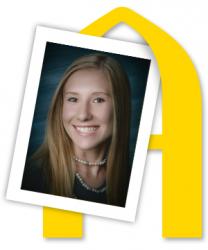 More Than I Imagined
Seniors reflect on accomplishments and look ahead
​Rebecca Post
Graduation year: 2015
Majors: Mathematics, psychology
Activities: Zeta Phi Kappa sorority, Omicron Delta Kappa, Psi Chi, Pi Mu Epsilon
Post-grad plans: Attend the University of Wisconsin-Madison to obtain my graduate degree in biostatistics
Why did you choose to attend Augustana?
I chose Augustana because I wanted to attend a college where I would be able to get to know my professors, and they would get to know me. The campus was beautiful, and I knew many people who had attended Augustana in the past and loved it.
Are you where you thought you'd be four years ago?
Not at all. Four years ago, I had not even heard of biostatistics and honestly had no idea what I wanted to do with my life. I discovered biostatistics during my junior year and fell in love with the research being done in the field. I do not think I would have found this field without Augustana and being able to explore many different majors.
Who helped you get to where you are now?
First of all, my parents helped me more than I can say. They have always supported me as I pursued my dreams, and they listened to me talk about mathematics for hours even when they did not understand what I was saying. In addition, all of the professors I had in mathematics and psychology were essential to my success, but specifically, my psychology advisor, Dr. Jessica Schultz, helped me find opportunities on campus to explore my interests, and Dr. Mark Salisbury helped me further explore my interests in statistics by offering me a job in Institutional Research this past summer.
A peak experience?
One of my peak experiences was completing my Senior Inquiry (SI) and having it accepted to present at a conference in Denver this May. I truly feel that my SI was a culmination of all my hard work here over the last four years. It showed me that I am ready and excited for graduate school.
What did you learn about yourself in these past four years that surprised you?
I discovered a confidence in my abilities, especially in my capability for research, which helped me choose my future path.
How did you use your Augie Choice?
I used my Augie Choice to travel to Greece last summer. This is one of the reasons why Augustana is so great: I was able to take a Classics class, completely unrelated to both of my majors, and travel to Greece, an experience I will never forget.
What will you miss the most?
I will miss all of the friends that I have made, but also the Augustana faculty that I had classes with or worked for during my four years. The Augustana community is filled with some of the most caring individuals I have ever met.
Advice for the Class of 2019?
Go to office hours and spend time with your advisors. My advisors offered me great advice and helped me with so much more than just choosing classes.
"Becca has developed an impressively powerful and flexible mind in her time at Augustana. She has been a productive leader and collaborator in multiple research products, including projects about student success on campus, mathematics, psychology and education. It has been a pleasure to work with her, and I am proud to have recommended Becca for graduate school, where she will continue growing and excelling."