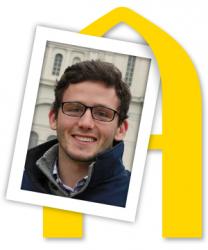 More Than I Imagined
Seniors reflect on accomplishments and look ahead
​Nathan Kyes
Graduation year: 2015
Majors: Accounting; business administration
Activities: Varsity soccer, Community Advisor, Admissions Ambassador, Student United Way, club soccer, Big Brothers Big Sisters
Post-grad plans: Attend Wake Forest University for a master's in accountancy. Start full-time at Deloitte upon completion of graduate school.
Why did you choose to attend Augustana?
Visiting the campus numerous times throughout the college search process enabled me to make connections at Augustana that were ultimately more meaningful than the connections made at any other institution. After sitting in on a class, talking to the soccer coach, interviewing with an admissions counselor and having an overnight stay on campus, I felt a strong connection to the school and, most importantly, to the people who make up the community that is Augustana College.
Are you where you thought you'd be four years ago?
Not at all. Coming into college I was uncertain of my intended major and had no clear calling as to what my future vocation was to be. Today, I am still unsure of what my future career path may hold, but I know what I am called to do. The avenue through which I venture, whether it be as an accountant, missionary or non-profit business owner, is not nearly as important as my overall purpose.
Who helped you get to where you are now?
Let me say that numerous Augustana friends and faculty have had a significant role in shaping who I have become. The two most impactful people in my life over the last four years have been the soccer coach and my boss at Adventurous Christians. The soccer coach was one of the first people who ever "failed" me and took me to a level I did not think I could reach. Because of this, I developed a new sense of self-confidence and advanced problem-solving capabilities. My boss at Adventurous Christians taught me what it meant to be a person of integrity. Both of these lessons have shaped me and matured me into who I am today.
A peak experience?
My senior year of soccer was a peak experience. I was honored to serve as the team captain of a wonderful group of young men. I learned a lot about soccer and what it means to be a competitor, but most importantly, I came to understand how to be an impactful leader. From our pre-season trip to Trinidad and Tobago to being named an Academic All-American at the conclusion of the season, it was an experience I will cherish forever.
What did you learn about yourself in these past four years that surprised you?
If we are avoiding things like my lack of expertise in the kitchen and with the laundry machines, I would say I learned the most about my passions. In high school, I sort of dabbled in everything, but in college I got very passionate about a couple of things. In no particular order, I have developed a love for accounting, English football, travel, the Bible and outdoor recreation. My time at Augie has kept me hungry to learn and remain open-minded while also maturing my commitment to the things I love.
How did you use your Augie Choice?
I used my Augie Choice to go to Trinidad and Tobago with the men's varsity soccer team. The trip provided an enlightening experience for the entire team. From playing six games to hanging around the beach to working on a Habitat for Humanity project, the trip was eye-opening and deepened the friendships with my teammates.
What will you miss the most?
I will miss the people the most. The best part about college is that all of your closest friends live within walking distance. The friendships that you make during these four years are priceless!
Advice for the Class of 2019?
There are no limits because your college experience can be whatever you make of it. Don't let others put any restrictions on what you can do, and don't put any of these limitations on yourself either. Personally, I underestimated my own abilities coming into college so I did not seize some of the opportunities that came my way.
"Nathan is one of the brightest students I've had the pleasure to work with. He is a terrific example of a student that got the most from his experience at Augustana. He is an Academic All-American competing on the men's soccer team, and he is our Outstanding Senior Accounting Major this year. Nathan is a winner and a leader. He will be a star next year completing a prestigious fellowship at Wake Forest University, and he will undoubtedly go on to a very successful career in accounting."