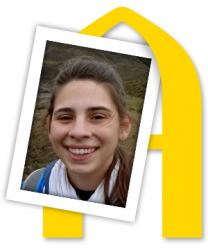 More Than I Imagined
Seniors reflect on accomplishments and look ahead
​Natali Bode
Graduation year: 2015
Major: Elementary education
Minor: Spanish
Activities: Camp Kesem, Omicron Delta Kappa, Phi Beta Delta
Post-grad plans: Teach English in Spain for a year before coming back to Illinois to teach in an elementary school
Why did you choose to attend Augustana?
I decided to come to Augie for several reasons. I had heard excellent things about the education department; I appreciated the small class sizes; and everyone I met during my campus visits was so welcoming.
Are you where you thought you'd be four years ago?
Yes and no. I came to Augustana with the goal of majoring in elementary education, and I will graduate this May with a degree in elementary education. Other than that, I am nowhere near where I thought I would be four years ago. I have grown tremendously, both personally and academically, as a result of the amazing organizations I have been involved in and the courses I have taken.
Who helped you get to where you are now?
All of the professors I have come to know, especially those in the education department, have helped me grow throughout my four years here. I cannot thank them enough for their continuous support, guidance and their confidence in my ability to succeed. I must also thank my Camp Kesem family. I have grown so much as a result of this amazing organization, and I could not have asked for a better group of supportive, caring and determined people to spend my time with here at Augustana.
A peak experience?
Becoming a part of Camp Kesem was definitely a peak experience. The group of students who work so hard to make camp possible have become like a second family to me, and being able to create a supportive community at camp for these children has been one of the most rewarding experiences in my life.
What did you learn about yourself in these past four years that surprised you?
I've learned that I can be a leader. In my first year here at Augie, I was asked to be part of the coordinating team (executive board) for Camp Kesem. I was really hesitant to accept the offer because I didn't think I would be a successful member of the leadership team, but I ended up accepting the position. It was one of the best decisions I ever made. I learned so much about myself and about working with others through this experience, and now I can't imagine my life here at Augie without Camp Kesem.
How did you use your Augie Choice?
I used my Augie Choice to study abroad in Cuenca, Ecuador.
What will you miss the most?
I will miss having my friends so nearby, Camp Kesem and this beautiful campus.
Advice for the Class of 2019?
Don't shy away from leadership opportunities. There are so many organizations you can be involved in on campus. Even as a first-year student, you have the ability to make large impacts on the Augustana community.
"I have been lucky enough to work with Natali from her first weekend on campus. She has never wavered from her goal of becoming an elementary teacher. Her work in classes and schools and her leadership positions with Camp Kesem have served to pique her interest further. During her sophomore year, we began discussing possibilities for teaching abroad after graduation. That interest crystallized during her summer in Ecuador. Natali will be a wonderful ambassador for Augustana. Thank you, Natali, for selecting Augie!"