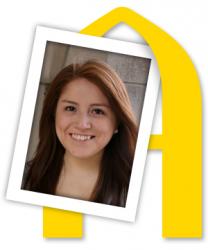 More Than I Imagined
Seniors reflect on accomplishments and look ahead
​Micaela Terronez
Graduation year: 2015
Majors: History, anthropology
Minor: Religion
Activities: Phi Alpha Theta, Chi Alpha Pi sorority, Augustana Dance Company, Augustana Vikettes
Post-grad plans: I plan to pursue a graduate degree in either library and information studies or cultural resource management.
Why did you choose Augustana?
As a local, I always wanted to attend a big school away from home. However, my older sister insisted that I apply to Augustana. At the end of the day, I realized Augustana was the best fit for me as a student and individual. What sold me was the size of the school. I came from a class of just over 100 students. I knew that a small college like Augustana would give me the individual attention and hands-on experience to obtain my goals.
Are you where you thought you'd be four years ago?
No way! I came to Augustana as a shy freshman with no clue what I wanted to major in. I knew that I loved studying history and culture, but I never imagined I would choose these passions as my majors. I had the impression that I could only be a teacher with these majors. However, I have realized the endless possibilities of my interdisciplinary majors because of the faculty and staff at Augustana.
Who helped you get to where you are now?
As a first-generation college student, my parents encouraged me to obtain my education to accomplish what neither they nor my grandparents did. It was never a choice to attend college. My education was an absolute must — and for that, I am so thankful. Besides my family, everyone in the Augustana community has helped me in some way to become the student and individual that I am today. I am especially grateful to the entire history, anthropology and religion departments. I cannot begin to thank these professors for their guidance, amazing lectures, and encouragement. I also want to thank my classmates, sorority, supervisors, and friends. This close-knit Augie community has inspired me to be a better version of myself, and it is the reason why I have truly enjoyed these last four years.
A peak experience?
A peak experience of my academic career was being awarded a summer research grant from Augustana. As a part of an initiative to better preserve the local Mexican-American community in the Quad Cities, I researched St. Mary's Catholic Church in Moline, Ill., and the prominent Mexican-American community that resides nearby in the Floreciente District. Without the advice of Augustana faculty, discussions with my peers, and the support of my family, I would not have been as prepared to do such intensive research. It is with this continued support that I also find myself ready to take on the "real world" and confident that my skills as a researcher will aid me in the future.
What did you learn about yourself in these past four years that surprised you?
I am surprised at how much I love being a student. My classes led me to challenge my views and question the world around me. My liberal arts education has given me this strong intellectual foundation, while also leading me to become a lifelong learner in my fields of study.
How did you use your Augie Choice?
I will be using my Augie Choice to study abroad in Rome, Italy! I will be eating pizza and gelato for days as I learn about the Italian culture with Dr. Dan Lee of the religion department.
What will you miss the most?
I will miss the daily conversations and laughter I have shared with my sorority sisters, fellow classmates and best friends at Augustana.
Advice for the Class of 2019?
Don't hesitate to immerse yourself in something you are interested in — or perhaps love! So, apply for that study abroad program even though you have never been on a plane, join an intramural sport you have no experience in, and take an interesting class in a subject other than your major. Augustana offers the environment where you can explore all of your interests.
"Micaela is a great example of a liberal arts student in that she is intellectually curious, able to synthesize a variety of information, and invested in her local community. She was able to take a small idea about local history that she had in the winter of junior year, then she completed research using many church documents and community interviews. She turned it all into an insightful Senior Inquiry project one year after she began."