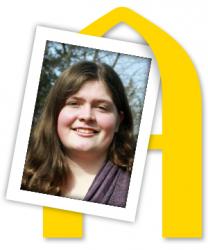 More Than I Imagined
Seniors reflect on accomplishments and look ahead
​Mary Liles
Graduation year: 2015
Major: Teaching mathematics
Activities: Interfaith, Habitat for Humanity, Campus Ministries, AITP
Post-grad plans: I intend to work as a junior high mathematics teacher at a school that is student-based and eager for teamwork across disciplines. Eventually, I would like to pursue a master's in math education and deaf education.
Why did you choose to attend Augustana?
I chose Augustana because of its outlook on education. As a liberal arts college, Augie encourages students to pursue a variety of content and make connections in all classes through interactions with students of diverse experiences. I have many interests not limited to education: mathematics, German language, geology, psychology, creative writing, art, religion, sociology, and giving back to the community. Augie was the one school that could effectively sate my desires to experience each and every area.
Likewise, with my ultimate desire to teach, Augie has the best program for any education major, providing strong experiences rooted in a spectrum of teaching placements and opportunities to both challenge and strengthen my beliefs, dispositions and personal teaching style.
Are you where you thought you'd be four years ago?
Most definitely not. While I always had the desire to be an educator, I never expected to come this far in developing essential skills and confidence. When I began at Augie, I struggled with self-esteem and could not appreciate the life I would achieve — then again, I didn't see what was to come. Through countless highs and lows throughout these four years, I would not recognize that girl that was me. Every experience has transformed me — made me stronger and more able to give back to this world.
Who helped you get to where you are now?
I entered college thinking that I was alone. I could not list the hundreds of faculty members, administrative personnel and students who have played a part in my present self. The community at Augie shares love in every way; I now know what it is to be loved and to love as a friend, as a wife, as a student, as a teacher, and as a member of a community. Strangers go out of their way to support one another. The patience of my friends and advisors and the personal connections made have forever changed me.
My professors sought me out as an individual and applauded strengths in me I never recognized. They facilitated my entire journey. My friends stood by me through the toughest and most joyous moments of my life; and I too have been there with them through the highs and lows — my greatest memories. Campus Ministries and the Augustana Counseling Service were among the first to make me feel welcome and set me on the path to confidence.
A peak experience?
I have had many. Here is just one: I had the opportunity to present my mathematics inquiry project at the ISMA annual meeting at Roosevelt University in Chicago in 2013. Taking ownership for my work in a professional setting among veteran mathematicians was both invigorating and humbling.
What did you learn about yourself in these past four years that surprised you?
I learned that I can be myself and be appreciated for it, especially by my students.
How did you use your Augie Choice?
I used my Augie Choice for an experience made possible by Dr. Bracke. A small group of students, including me, took a trip to Vanderbilt University in Nashville, Tenn., for a conference on supporting gifted learners. Then we traveled to the Florida School for the Deaf and Blind in St. Augustine, Fla., where I was an intern.
What will you miss the most?
I will miss the challenges that many professors offered me in class — where I had to think and operate outside the box and further.
Advice for the Class of 2019?
Don't hold back. What you get out of every class and experience is limited to that which you seize. Challenge yourself. Make the most of every credit. Take a variety of courses, get involved and be open to change. Augie will transform you in ways you couldn't imagine — but only if you let it.
"From the first day I met her, it was clear Mary was passionate about becoming a high school math teacher. Mary set high expectations for herself and has more than risen to the challenge. In math classes, she seeks the big picture and will be able to help her students see math as an interesting place to explore, not merely a set of rules and methods."